Britannia would like to assist those who are not able to afford the advertised cost of certain recreation programs; at the same time, our operation needs to be financially viable. Click here for our Subsidy Policy.
Britannia Events Calendar
Holiday Decor Workshop
Dec 8, 2018 12:00 pm - Dec 8, 2018 4:00 pm
Location: 55+ Centre
Celebrate the season by making your own seasonal decor and art projects.
Various local artists will be instructing in a variety of media.
All materials provided. All ages welcome!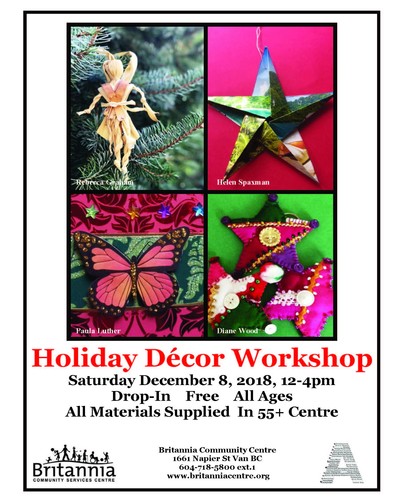 Events
Jun 4, 2023 6:00 pm - Jun 4, 2023 9:00 pm

Everyone is welcome to attend our movie series Sunday evenings in the 55+ Centre.


Jun 11, 2023 6:00 pm - Jun 11, 2023 9:00 pm

Everyone is welcome to attend our movie series Sunday evenings in the 55+ Centre.


Jun 16, 2023 7:00 pm - Jun 16, 2023 10:00 pm

Jun 17, 2023 9:00 am - Jun 17, 2023 12:00 pm

Location:

Northwest corner of Parking Lot

Jun 17, 2023 1:00 pm - Jun 17, 2023 8:00 pm

Jun 18, 2023 1:00 pm - Jun 18, 2023 5:00 pm