Britannia would like to assist those who are not able to afford the advertised cost of certain recreation programs; at the same time, our operation needs to be financially viable. Click here for our Subsidy Policy.
Britannia Events Calendar
3rd Annual Fall Equinox Coffee House
Sep 23, 2018 7:00 pm - Sep 23, 2018 9:30 pm
Location: 55+ Centre
Come celebrate the beginning of the Fall season with this cozy neighbourhood event! An evening of local live music, poetry, refreshments and more!
Free event for all ages.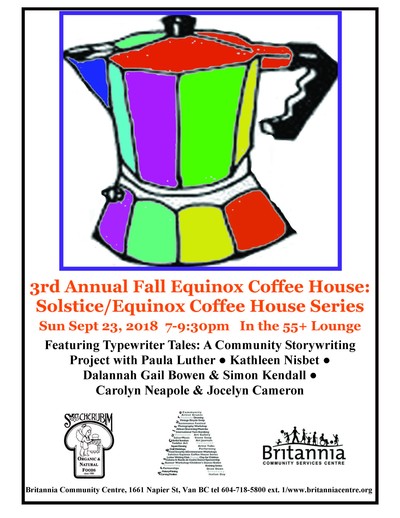 Events
Jun 4, 2023 6:00 pm - Jun 4, 2023 9:00 pm

Everyone is welcome to attend our movie series Sunday evenings in the 55+ Centre.


Jun 11, 2023 6:00 pm - Jun 11, 2023 9:00 pm

Everyone is welcome to attend our movie series Sunday evenings in the 55+ Centre.


Jun 16, 2023 7:00 pm - Jun 16, 2023 10:00 pm

Jun 17, 2023 9:00 am - Jun 17, 2023 12:00 pm

Location:

Northwest corner of Parking Lot

Jun 17, 2023 1:00 pm - Jun 17, 2023 8:00 pm

Jun 18, 2023 1:00 pm - Jun 18, 2023 5:00 pm