Britannia would like to assist those who are not able to afford the advertised cost of certain recreation programs; at the same time, our operation needs to be financially viable. Click here for our Subsidy Policy.
Britannia Events Calendar
Mobi Community Pass Sign Up
Jul 4, 2018 2:00 pm - Jul 4, 2018 4:00 pm
Location: Britannia Breezeway
The Vancity Community Pass, supports the Healthy Mobility Program by offering discounted 365 Day Passes so that more people can enjoy the benefits of bike share.

You may qualify for this pass if you have a:
• Leisure Access Pass
• Red Compass Card
• Third party referral from a Community Partner
*No credit card required. Cash options available.
Sign up in person at 3 events coming up on July 1st, 4th, and 8th.
(Click on poster image to view full size)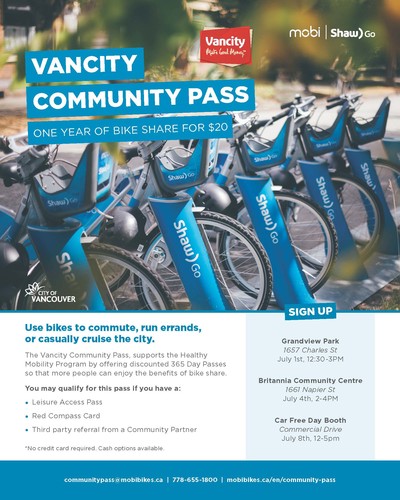 Events
Mar 1, 2023 7:15 pm - Mar 1, 2023 9:50 pm

Mar 5, 2023 6:00 pm - Mar 5, 2023 9:00 pm

Everyone is welcome to attend our movie series Sunday evenings in the 55+ Centre.


Mar 8, 2023 7:15 pm - Mar 8, 2023 9:50 pm

Mar 10, 2023 4:30 pm - Mar 10, 2023 8:30 pm

Mar 12, 2023 6:00 pm - Mar 12, 2023 9:00 pm

Everyone is welcome to attend our movie series Sunday evenings in the 55+ Centre.


Mar 15, 2023 7:15 pm - Mar 15, 2023 9:50 pm