Britannia would like to assist those who are not able to afford the advertised cost of certain recreation programs; at the same time, our operation needs to be financially viable. Click here for our Subsidy Policy.
Britannia Events Calendar
Celebrate Canada Day!
Jul 1, 2018 12:30 pm - Jul 1, 2018 3:00 pm
Location: Grandview Park
This year's Canada celebration will be held on Sunday 12:30pm-3pm, July 1st at Grandview Park.  The event is co-hosted with Commercial Drive BIA. 
In addition to the Kara-Kata band, there will be many community booths including VPL, GWFC, CAPC and tons of family friendly entertainment. 
We are also very excited that many of Britannia's popular programs such as Salsa, Kungfu, Ki Aikido, Axe Capoeira among others will all be present to showcase their talent on the main stage.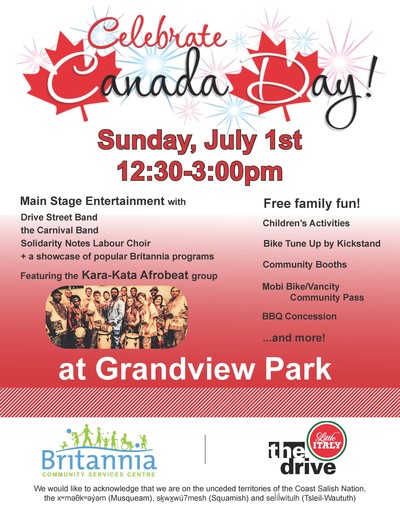 Events
Jun 4, 2023 6:00 pm - Jun 4, 2023 9:00 pm

Everyone is welcome to attend our movie series Sunday evenings in the 55+ Centre.


Jun 8, 2023 12:00 pm - Jun 8, 2023 3:00 pm

Location:

Carving Pavilion

Jun 11, 2023 1:00 pm - Jun 11, 2023 4:00 pm

Location:

Carving Pavilion

Jun 11, 2023 6:00 pm - Jun 11, 2023 9:00 pm

Everyone is welcome to attend our movie series Sunday evenings in the 55+ Centre.


Jun 15, 2023 12:00 pm - Jun 15, 2023 3:00 pm

Location:

Carving Pavilion

Jun 16, 2023 7:00 pm - Jun 16, 2023 10:00 pm