Britannia would like to assist those who are not able to afford the advertised cost of certain recreation programs; at the same time, our operation needs to be financially viable. Click here for our Subsidy Policy.
Britannia Events Calendar
Outdoor Programs
Starting on August 6, 2020 we're offering in-person outdoor programs. You can view our programs on the Vancouver Recreation site; to view Britannia's program, select 'Britannia Community Centre' in the location section of the search filters. More programs may be posted in early August. Online registration for our outdoor programs opens on August 4, 2020. Phone-in registration opens on August 5, 2020 at 10:00am.
Esqueletos y Corazones
May 18, 2018 3:00 pm - May 18, 2018 6:00 pm
Location: Rink Mezzanine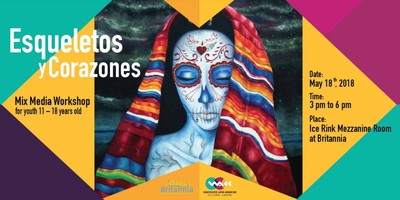 Free mixed media art workshop for youth combines stencil graphics, spray paint, acrylic paint and permanent markers on a firm plank to create a unique celebratory piece of art. A wonderful way to explore multiple levels of creativity.
Vancouver based artist Ari De La Mora is a self taught figurative painter born and raised in Mexico. Aris' works have been exhibited in group and solo exhibitions in Canada, USA and Mexico.
For youth 11-18yrs
Friday May 18th, 3-6pm
In the Rink Mezzanine room
Free to participate, register by email to 
Stephanie Angel-Garay
Latin American Youth Programmer
Britannia Community Centre
604-718-5829

 

Events
Aug 4, 2020 2:00 pm - Aug 4, 2020 7:00 pm

Location:

Britannia Plaza

Aug 5, 2020 12:00 pm - Aug 5, 2020 1:00 pm

Aug 6, 2020 2:00 pm - Aug 6, 2020 7:00 pm

Location:

Britannia Plaza

Aug 7, 2020 3:00 pm - Aug 7, 2020 4:00 pm

Aug 11, 2020 2:00 pm - Aug 11, 2020 7:00 pm

Location:

Britannia Plaza

Aug 11, 2020 5:30 pm - Aug 11, 2020 6:30 pm

Location:

Carving Centre and Zoom