Britannia would like to assist those who are not able to afford the advertised cost of certain recreation programs; at the same time, our operation needs to be financially viable. Click here for our Subsidy Policy.
Britannia Events Calendar
Esqueletos y Corazones
May 18, 2018 3:00 pm - May 18, 2018 6:00 pm
Location: Rink Mezzanine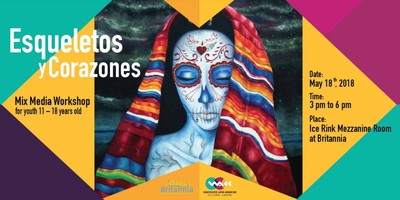 Free mixed media art workshop for youth combines stencil graphics, spray paint, acrylic paint and permanent markers on a firm plank to create a unique celebratory piece of art. A wonderful way to explore multiple levels of creativity.
Vancouver based artist Ari De La Mora is a self taught figurative painter born and raised in Mexico. Aris' works have been exhibited in group and solo exhibitions in Canada, USA and Mexico.
For youth 11-18yrs
Friday May 18th, 3-6pm
In the Rink Mezzanine room
Free to participate, register by email to 
Stephanie Angel-Garay
Latin American Youth Programmer
Britannia Community Centre
604-718-5829

 

Events
Mar 1, 2023 7:15 pm - Mar 1, 2023 9:50 pm

Mar 5, 2023 6:00 pm - Mar 5, 2023 9:00 pm

Everyone is welcome to attend our movie series Sunday evenings in the 55+ Centre.


Mar 8, 2023 7:15 pm - Mar 8, 2023 9:50 pm

Mar 10, 2023 4:30 pm - Mar 10, 2023 8:30 pm

Mar 12, 2023 6:00 pm - Mar 12, 2023 9:00 pm

Everyone is welcome to attend our movie series Sunday evenings in the 55+ Centre.


Mar 15, 2023 7:15 pm - Mar 15, 2023 9:50 pm