Britannia would like to assist those who are not able to afford the advertised cost of certain recreation programs; at the same time, our operation needs to be financially viable. Click here for our Subsidy Policy.
Britannia Events Calendar
Outdoor Programs
Starting on August 6, 2020 we're offering in-person outdoor programs. You can view our programs on the Vancouver Recreation site; to view Britannia's program, select 'Britannia Community Centre' in the location section of the search filters. More programs may be posted in early August. Online registration for our outdoor programs opens on August 4, 2020. Phone-in registration opens on August 5, 2020 at 10:00am.
8th Annual Earth Day Parade
Apr 21, 2018 1:00 pm - Apr 21, 2018 3:00 pm
Location: Commercial Dr & Grandview Park
Join Windermere Secondary School's Youth for Climate Justice Now as we carry on this fun, family-friendly tradition by coming together to celebrate the planet.
This year's parade will begin at Commercial and Broadway at 1:00 PM
And the festival continues on at Grandview Park from 1:45 to 3:00 PM
Visit earthdayparade.ca for more event details.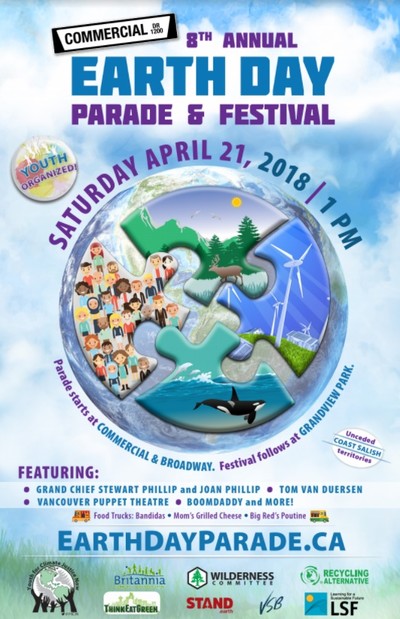 Events
Aug 4, 2020 2:00 pm - Aug 4, 2020 7:00 pm

Location:

Britannia Plaza

Aug 5, 2020 12:00 pm - Aug 5, 2020 1:00 pm

Aug 6, 2020 2:00 pm - Aug 6, 2020 7:00 pm

Location:

Britannia Plaza

Aug 7, 2020 3:00 pm - Aug 7, 2020 4:00 pm

Aug 11, 2020 2:00 pm - Aug 11, 2020 7:00 pm

Location:

Britannia Plaza

Aug 11, 2020 5:30 pm - Aug 11, 2020 6:30 pm

Location:

Carving Centre and Zoom