Britannia would like to assist those who are not able to afford the advertised cost of certain recreation programs; at the same time, our operation needs to be financially viable. Click here for our Subsidy Policy.
Britannia Events Calendar
Master Plan Presentation
Apr 14, 2018 12:00 pm - Apr 14, 2018 4:00 pm
Location: Gym D & Breezeway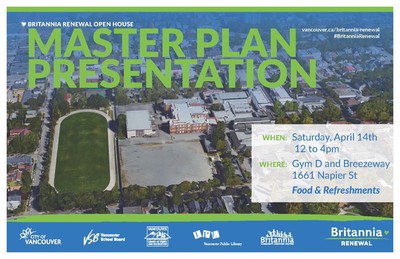 Join us as we present the Britannia Renewal Master Plan to the community. All are welcome to this family friendly event. Food and refreshments will be provided.

Many thanks to all the community members who contributed to the development of the master plan. We hope you will continue to be involved in the Britannia Renewal project as it moves forward.

Event venue is accessible for wheelchairs and mobility aids
Accessible parking located beside the Britannia Al Mattison Lounge 55+ Centre (enter lane off Parker St or William St)
Please contact Britannia Community Services Centre at 604-718-5800 (ext 1) or for accessibility information.

Events
Jan 15, 2022 9:00 am - Jan 15, 2022 12:00 pm

Location:

Northwest corner of Parking Lot

Jan 18, 2022 6:30 pm - Jan 18, 2021 8:30 pm

The next Planning and Development Committee Meeting will be Tuesday, January 18, 2022 from 6:30-8:30pm on Zoom.

Jan 23, 2022 6:00 pm - Jan 23, 2022 9:00 pm

Jan 30, 2022 6:00 pm - Jan 30, 2022 9:00 pm