Britannia would like to assist those who are not able to afford the advertised cost of certain recreation programs; at the same time, our operation needs to be financially viable. Click here for our Subsidy Policy.
Britannia Events Calendar
EcoArt Walk - Information Session
Feb 21, 2018 7:00 pm - Feb 21, 2018 9:00 pm
Location: Rink Mezzanine
EcoArt Walk invites residents in Grandview-Woodlands to create temporary eco-art installations in Green Streets Gardens. We hope to seed-bomb new relationships, fertile expressions, and civic conversations at the meeting place of people, ecology, and creativity.
Artists: please send us one page on your idea including the concept, scale, and materials to be used. Group proposals welcome. Sketches are accepted but not required at this stage. Note that artworks in these areas must maintain visibility for
pedestrians, cyclists, and drivers while being structurally sound and safe in all weather.
We strongly urge all potential citizen artists to attend an info session before submitting.
Submissions can be sent to through March 16, 2018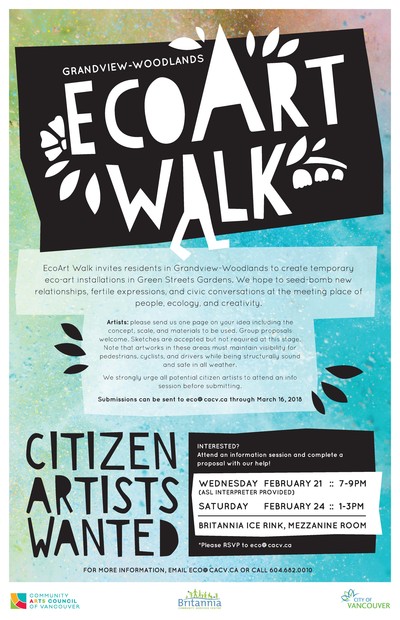 Events
Jun 4, 2023 6:00 pm - Jun 4, 2023 9:00 pm

Everyone is welcome to attend our movie series Sunday evenings in the 55+ Centre.


Jun 11, 2023 6:00 pm - Jun 11, 2023 9:00 pm

Everyone is welcome to attend our movie series Sunday evenings in the 55+ Centre.


Jun 16, 2023 7:00 pm - Jun 16, 2023 10:00 pm

Jun 17, 2023 9:00 am - Jun 17, 2023 12:00 pm

Location:

Northwest corner of Parking Lot

Jun 17, 2023 1:00 pm - Jun 17, 2023 8:00 pm

Jun 18, 2023 1:00 pm - Jun 18, 2023 5:00 pm