Britannia would like to assist those who are not able to afford the advertised cost of certain recreation programs; at the same time, our operation needs to be financially viable. Click here for our Subsidy Policy.
Britannia Events Calendar
Outdoor Programs
Starting on August 6, 2020 we're offering in-person outdoor programs. You can view our programs on the Vancouver Recreation site; to view Britannia's program, select 'Britannia Community Centre' in the location section of the search filters. More programs may be posted in early August. Online registration for our outdoor programs opens on August 4, 2020. Phone-in registration opens on August 5, 2020 at 10:00am.
Preteen Dance
Apr 13, 2018 6:30 pm - Apr 13, 2018 9:00 pm
Location: CFEC, 1655 William St - 2nd Floor
DJ 2 Scoops plays the music. You and your friends have a blast!
Concession will be open for sale of glow sticks, glow necklaces, snacks and pizza.
Grade 5-7 only. Parental Consent Form must be completed and are available at the Teen and Info Centres one week before the dance.
$1 at the door.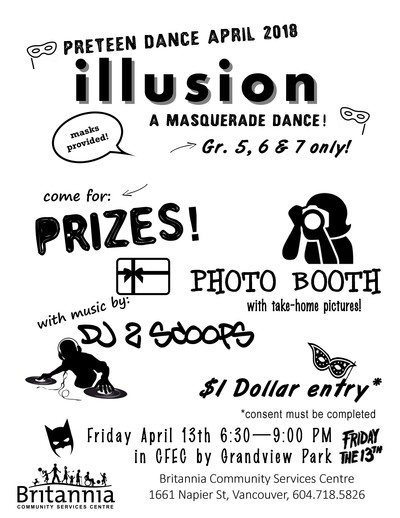 Events
Aug 4, 2020 2:00 pm - Aug 4, 2020 7:00 pm

Location:

Britannia Plaza

Aug 5, 2020 12:00 pm - Aug 5, 2020 1:00 pm

Aug 6, 2020 2:00 pm - Aug 6, 2020 7:00 pm

Location:

Britannia Plaza

Aug 7, 2020 3:00 pm - Aug 7, 2020 4:00 pm

Aug 11, 2020 2:00 pm - Aug 11, 2020 7:00 pm

Location:

Britannia Plaza

Aug 11, 2020 5:30 pm - Aug 11, 2020 6:30 pm

Location:

Carving Centre and Zoom