Britannia would like to assist those who are not able to afford the advertised cost of certain recreation programs; at the same time, our operation needs to be financially viable. Click here for our Subsidy Policy.
Britannia Events Calendar
Cinema Paradiso
Apr 7, 2013 6:00 pm - Apr 7, 2013
Location: AML Seniors Centre
To celebrate the opening of our Italian Language Courses, FOR FUN AND TRAVEL presents this much celebrated foreign film.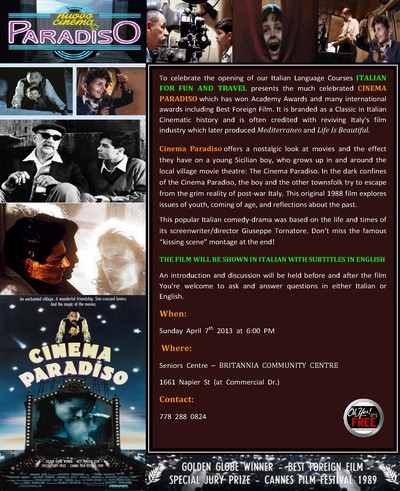 Cinema Paradiso offers a nostalgic look at movies and the effect they have on a young Sicilian boy as he and the other townsfolk try to escape from the grim reality of post-war Italy. This original 1988 film explores issues of youth, coming of age, and reflections about the past. This popular Italian comedy-drama was based on the life and times of its screenwriter/director Giuseppe Tornatore.
THE FILM WILL BE SHOWN IN ITALIAN WITH SUBTITLES IN ENGLISH.

An introduction and discussion will be held before and after the film. You're welcome to ask and answer questions in either Italian or English.

Events
Dec 2, 2018 6:00 pm - Dec 2, 2018 9:00 pm

The Britannia Great Movies Series happens every Sunday evening from 6-9pm in the 55+ Centre. All our welcome to come and enjoy a movie and free popcorn!

Dec 3, 2018 - Dec 6, 2018

Dec 7, 2018 8:00 pm - Dec 7, 2018 10:00 pm

Climb the WIBIT! Contests, prizes, games and crazy staff!

Dec 8, 2018 12:00 pm - Dec 8, 2018 4:00 pm

Celebrate the season by making your own seasonal decor and art projects.
Various local artists will be instructing in a variety of media.
All materials provided. All ages welcome!

Dec 9, 2018 6:00 pm - Dec 9, 2018 9:00 pm

The Britannia Great Movies Series happens every Sunday evening from 6-9pm in the 55+ Centre. All our welcome to come and enjoy a movie and free popcorn!

Dec 11, 2018 4:30 pm - Dec 11, 2018 6:30 pm

Location:

Learning Resource Centre