Britannia would like to assist those who are not able to afford the advertised cost of certain recreation programs; at the same time, our operation needs to be financially viable. Click here for our Subsidy Policy.
Britannia Events Calendar
Britannia Christmas Craft Fair
Nov 16, 2012 - Nov 18, 2012
Location: Gyms A&B
Want an early start on your Christmas shopping? Come check out the 29th annual Britannia Christmas Craft Fair from November 16 to 18, 2012! For more information, contact 604.713.8273.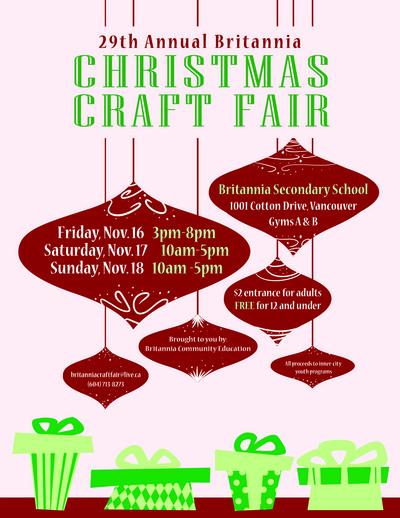 OUR 29TH ANNUAL 2012 BRITANNIA CHRISTMAS CRAFT FAIR!

Britannia Secondary School – Gyms A&B
1001 Cotton Drive, Vancouver, B.C. V5L 3T4
Tel: 604.713.8273
Email: britanniacraftfair@live.ca


WHEN?
The craft fair runs 3 days:
Friday, November 16th (3:00 – 8:00 pm)
Saturday, November 17th (10:00 am – 5:00 pm)
Sunday, November 18th (10:00 am – 5:00 pm)

HOW TO APPLY?
Download the PDF form then send it:

By mail to:
Britannia Community Education
Attn: Mitra Tshan, Craft Fair Coordinator
1001 Cotton Drive
Vancouver, B.C. V5L 3T4

By fax to: 604.713.8265

By email to:

Deadline for application submission is Friday, October 5th, 2012 by 4:00 pm to Britannia Secondary School. No exceptions. All late entries will be waitlisted and contacted.

We hope to see you there!

Mitra Tshan, Craft Fair Coordinator

Note: All proceeds to our inner-city kids programs in the Britannia HUB!
 

Events
Jan 1, 2019 1:00 pm - Jan 1, 2019 3:30 pm

Location:

Britannia Ice Rink

All are welcome to attend our free public skate from 1:00-3:30pm

Skate rentals included.


Jan 2, 2019 6:30 pm - Jan 2, 2019 8:30 pm

Location:

Britannia Art Gallery

January Exhibition runs Jan 2-Feb 1
Featuring:
"The Seasons of Vancouver" a photo essay by John Wang
"The Highrises That Ate Vancouver" oil paintings on board by Deanna Fogstrom

Jan 4, 2019 8:00 pm - Jan 4, 2019 10:00 pm

Climb the WIBIT! Contests, prizes, games and crazy staff!

Jan 6, 2019 6:00 pm - Jan 6, 2019 9:00 pm

The Britannia Great Movies Series happens every Sunday evening from 6-9pm in the 55+ Centre. All our welcome to come and enjoy a movie and free popcorn!

Jan 13, 2019 6:00 pm - Jan 13, 2019 9:00 pm

The Britannia Great Movies Series happens every Sunday evening from 6-9pm in the 55+ Centre. All our welcome to come and enjoy a movie and free popcorn!

Jan 19, 2019 9:00 am - Jan 19, 2019 12:00 pm

Location:

Northwest corner of Parking Lot