Britannia would like to assist those who are not able to afford the advertised cost of certain recreation programs; at the same time, our operation needs to be financially viable. Click here for our Subsidy Policy.
Britannia Events Calendar
Farewell to Britannia Outdoor Adventures!
Jun 20, 2012 6:00 pm - Jun 20, 2012
Location: Rink Mezzanine Room
Light refreshments provided, feel free to bring a dish to share.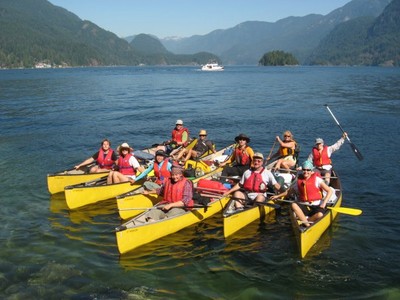 Britannia Outdoor Adventures (aka Britannia Membership Events) began in the winter of 1995 offering hiking, backpacking, cycling, canoeing, snowshoeing and Nordic skiing from Mount Currie to Mt. Baker and Manning Park to the Gulf Islands. Britannia Outdoor Adventures Facebook group will remain for the near future as a possible tool for people to arrange their own adventures.
Guides Barry and Randi will be hosting this wrap-up gathering to share pictures, videos and memories from the past 17 years. Please RSVP .

Events
Dec 2, 2018 6:00 pm - Dec 2, 2018 9:00 pm

The Britannia Great Movies Series happens every Sunday evening from 6-9pm in the 55+ Centre. All our welcome to come and enjoy a movie and free popcorn!

Dec 3, 2018 - Dec 6, 2018

Dec 7, 2018 8:00 pm - Dec 7, 2018 10:00 pm

Climb the WIBIT! Contests, prizes, games and crazy staff!

Dec 8, 2018 12:00 pm - Dec 8, 2018 4:00 pm

Celebrate the season by making your own seasonal decor and art projects.
Various local artists will be instructing in a variety of media.
All materials provided. All ages welcome!

Dec 9, 2018 6:00 pm - Dec 9, 2018 9:00 pm

The Britannia Great Movies Series happens every Sunday evening from 6-9pm in the 55+ Centre. All our welcome to come and enjoy a movie and free popcorn!

Dec 11, 2018 4:30 pm - Dec 11, 2018 6:30 pm

Location:

Learning Resource Centre