Camps at Britannia
Waivers for Funseekers day camp are available here when ready.
Funseekers Registration Package
*Please note: Out-trips and activities are subject to change.
All New Campers
* Note to Parents/Guardians: these forms need to be filled out once for the summer for each camper. 
Funseekers Registration & Waiver Package
New & Returning Campers
* Each week has consent forms for out-trips and other info needed. These are available by Friday the week prior to camp.
Week 7 - Aug 15-19 - Young campers (5-7)
Week 7 - Aug 15-19 - Older campers (8-12)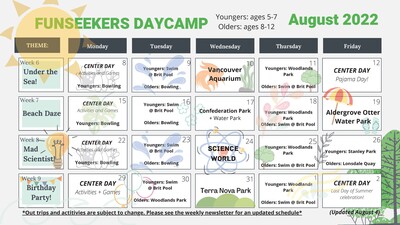 (Click on calendar for larger view)
Funseekers Day Camp (6-12 yrs)
Come learn new skills, meet new friends, or simply to have FUN!
Special emphasis is placed on the use of the Equitas program "Play it Fair" which is designed to promote human rights, inclusion, anti-discrimination, respect for diversity, and the peaceful conflict resolution among children.
Register early to avoid disappointment. Please provide lunch, snack, and water daily.
Parents are required to complete consent forms which are available the week before camp.

Mon-Fri      9:00am-3:00pm      Gym D     $99/5 sess,  *$80/4 sess
411111        Jul 4-8
411112        Jul 11-15
411113        Jul 18-22
411114        Jul 25-29
411115        Aug 2-5*
411116        Aug 8-12
411117        Aug 15-19
411118        Aug 22-26
411119        Aug 29-Sep 2 
Funseekers Cancellation Policy
A $5 administration fee will be charged for each camp a refund is requested for. Refund requests must be made a minimum of one week (7 days) prior to the start of the program. No refunds after this time.
Please note:
* If your child has Covid-19 symptoms, is sick, or has been in contact with someone who has symptoms, or has
been in contact with someone who has recently tested positive for Covid-19, do not send them to camp. If your
child is sick at camp, we will send them home.

*Masks will be required for all staff/volunteers and children