Camps at Britannia
Funseekers Day Camp (6-12 yrs)
Come learn new skills, meet new friends, or simply to have FUN!
Special emphasis is placed on the use of the Equitas program "Play it Fair" which is designed to promote human rights, inclusion, anti-discrimination, respect for diversity, and the peaceful conflict resolution among children.
Register early to avoid disappointment. Please provide lunch, snack, and water daily.
Parents are required to complete consent forms which are available the week before camp.
Mon-Fri      9:00am-3:00pm      Gym D     $105/5 sess; *$84/4sess
Note: All sessions are full. Please sign up for wait list if interested.
451851     Jul 3-7
451852     Jul 10-Jul 14
451853     Jul 17-21
451854     Jul 24-28
451855     Jul 31-Aug 4
451856     Aug 8-11*
451857     Aug 14-18
451858     Aug 21-25
451859     Aug 28-Sep 1 
Funseekers Cancellation Policy
A $5 administration fee will be charged for each camp a refund is requested for. Refund requests must be made a minimum of one week (7 days) prior to the start of the program. No refunds after this time.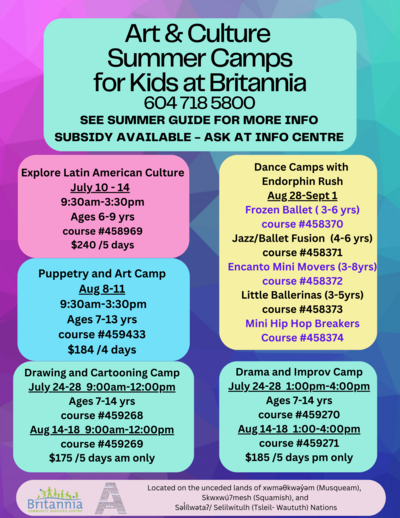 Tennis & Art Summer Camp (5-10yrs)
Join Britannia Community Centre and the Art of Tennis for a
children's camp filled with the essentials of creative art and self motivating tennis activities. The day is broken down into morning and afternoon events which allow your child to be part of an all day outdoor program. The program involves physical activity in the morning with tennis skills and drills, and then continues with a creative arts and games program in the afternoon.
Please ensure each child brings: hat, water bottle, lunch, snacks and your own racquet. Meet at Garden Park Tennis Court in the South East corner of the park and pick up at Garden Park (1851 Garden Drive). Rain Out Policy: If rain is in the forecast, Art of Tennis staff will call you to let you know if the program the next day is cancelled. We hope for a sunny summer!

Mon-Fri      9:00am-3:00pm    $325/5 sess *$260/4 sess
Juan Carlos          Garden Park

456269   Jul 4-7*
456270   Jul 10-14
456271   Jul 17-21
456272   Jul 24-28
456273   Jul 31-Aug 4
456274   Aug 8-11*
456275   Aug 14-18
456276   Aug 21-25
456277   Aug 28-Sep 1
Please note: If your child has Covid-19 symptoms, is sick, or has been in contact with someone who has symptoms, or has been in contact with someone who has recently tested positive for Covid-19, do not send them to camp. If your child is sick at camp, we will send them home.