Britannia's COVID-19 Response
Community Resilience During a Pandemic: Britannia Community Services Centre's COVID-19 Response
On March 16, 2020, Britannia Community Services Centre, along with other community centres and facilities throughout the City of Vancouver and the Province of British Columbia, were ordered to close all programming and services to mitigate the spread of COVID-19. This report outlines the actions taken in response to the community need resulting from the mandated closures, the impact on the community, and the experience of individuals within the community during this time.
"We are like a village and in a village people help each other through difficult times. This research will help us understand what happened and how we can plan for the future with the goal of being of service to our community."
— Annie Danilko, President, Britannia Board of Directors - 2020/21
This project was implemented in the same way that the COVID response was activated at Britannia; by gathering people together. The intention of this report is to tell our story of resilience and service to the community, for the purpose of ensuring knowledge for the future.
COMING TOGETHER DURING A PANDEMIC: A Community Inquiry Into Britannia's COVID-19 Response - Full Report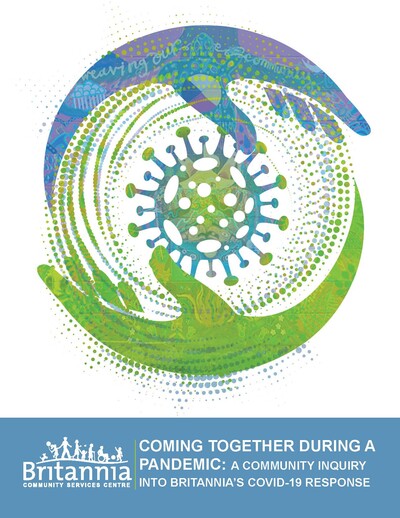 Partner Map
This map is a visual representation of the relationships and connections between different individuals, organizations, and groups that facilitated and drove the success of Britannia's COVID-19 Response. The networks and relationships displayed are those reported by participants of Britannia's COVID-19 response report. This display is by no means comprehensive and does not fully capture the extent to which the interconnectedness of Britannia's community members weaves the fabric on and through which Britannia's culture and community is built.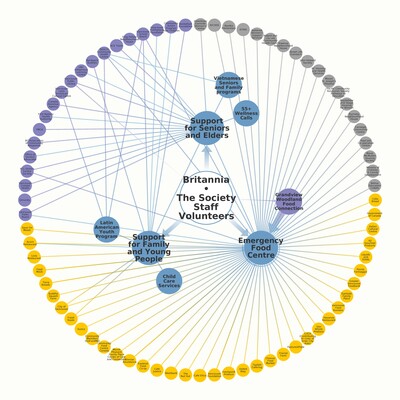 (Click on image for larger view)
Video: Practicum Presentation