Britannia would like to assist those who are not able to afford the advertised cost of certain recreation programs; at the same time, our operation needs to be financially viable. Click here for our Subsidy Policy.
Partial Parking Lot Closure Oct 13-14
Starting on October 13 at 7am, the middle sections of the central and west parking lot will be closed until October 14 at 7pm for a film crew rental.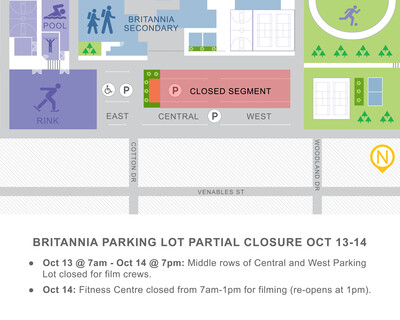 This will significantly impact the available parking in the lot, so please plan accordingly if you drive to Britannia this evening or on Friday. There is additional free parking on Cotton Drive and Venables St.
The Fitness Centre will also be closed from 7am-1pm on October 14 for filming, and will reopen at 1pm. You may encounter increased activity on October 14 from 7am-7pm with film crews at the site.
Post a Comment :
Comments are currently closed for this post.