Britannia would like to assist those who are not able to afford the advertised cost of certain recreation programs; at the same time, our operation needs to be financially viable. Click here for our Subsidy Policy.
Spring Program Registration
Browse our Spring 2023 Program Guide and check registration dates.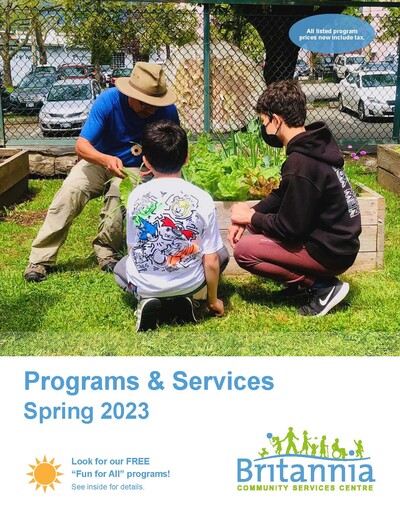 Spring 2023 Programs
Browse the 2023 Spring Program Guide and register for programs at vanrec.ca.
Spring Registration Dates
General Programs
Registration for general Spring programs opens Tuesday March 7, 2023 at 7:00pm in person and online. Phone registration opens Wednesday March 8, 2023 at 9:00am.
Swim Lessons
Registration for spring swim lessons opens on Tuesday March 14, 2023 at 7:00pm in-person and online.
Skating Lessons
Registration for Set 1 skating lessons begins on Wednesday March 29, 2023 at 9:00am in-person and online, and at 1:00pm by phone. Registration for Set 2 skating lessons begins on May 17, 2023.
Summer Funseekers
Registration for Summer 2023 Funseekers begins on Saturday April 1, 2023 at 10:00am online and in-person at the Info Centre.
Post a Comment :
Comments are currently closed for this post.