Britannia would like to assist those who are not able to afford the advertised cost of certain recreation programs; at the same time, our operation needs to be financially viable. Click here for our Subsidy Policy.
Holiday hours
Find out public swim and skate times and other facility hours for Family Day weekend.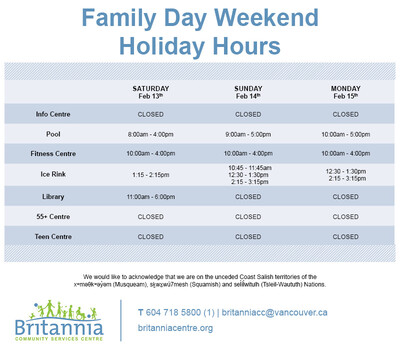 (Click on image for larger view)
Mon Feb 15 - Family Day
Times available for booking up to 3 days in advance at recreation.vancouver.ca
Pool
10:00-10:45am
Length Swim
Bubble Swim
11:15-12:00pm
Public Swim
Bubble Swim
12:00-12:45pm
Bubble Swim
1:30-2:15pm
Public Swim
Bubble Swim
2:15-3:00pm
Bubble Swim
3:30-4:15pm
Public Swim
Bubble Swim
4:15-5:00pm
Bubble Swim
Arena
Public Skates:
12:30-1:30pm
2:45-3:45pm
Fitness Centre
10:00-11:00am
11:30-12:30pm
1:30-2:30pm
3:00-4:00pm
Visit recreation.vancouver.ca to search available times for the Rink, Pool & Fitness Centre and reserve your time up to 3 days in advance.
For assistance by phone please contact:
Information Centre - 604.718.5800 (1)
Mon-Fri    9:00am-5:00pm
Pool Cashier - 604.718.5831
Mon-Fri  8:00am-7:30pm, Sat  10:00am-3:30pm,
Sun  9:00am-4:30pm.
Britannia Branch Library - Closed
Post a Comment :
Comments are currently closed for this post.