Britannia would like to assist those who are not able to afford the advertised cost of certain recreation programs; at the same time, our operation needs to be financially viable. Click here for our Subsidy Policy.
East Van Garden Tour
This Father's Day, explore 12 delightful private gardens in the East Van Garden Tour.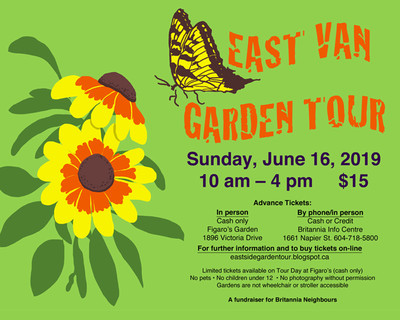 The walking tour begins at Figaro's Garden Centre (1896 Victoria Drive). Tickets are $15 per person and available by phone or in-person at Britannia Community Centre, or online:
eastsidegardentour.blogspot.ca
Proceeds support Britannia Neighbours!
Post a Comment :
Comments are currently closed for this post.