Britannia would like to assist those who are not able to afford the advertised cost of certain recreation programs; at the same time, our operation needs to be financially viable. Click here for our Subsidy Policy.
Easter Weekend at Britannia
Find out what's happening around the site over Easter weekend.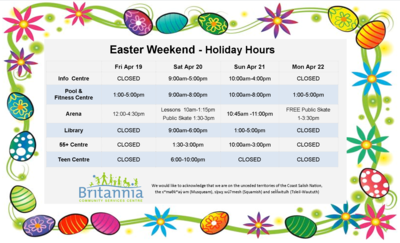 (Click on image to view full size)
April 20, 12:00-2:00pm - FREE Easter Event in Gym D
April 21, 2:00-3:00pm - FREE Easter Egg Pool Hunt
April 22, 1:00-3:30pm - FREE Public Skate event
Post a Comment :
Comments are currently closed for this post.