Britannia would like to assist those who are not able to afford the advertised cost of certain recreation programs; at the same time, our operation needs to be financially viable. Click here for our Subsidy Policy.
Britannia Renewal: Concept Survey
Three potential options for Britannia Renewal are available for review. Now it's time to have your say on these concepts and let us know what you like and don't like about each one. Survey closes March 13th.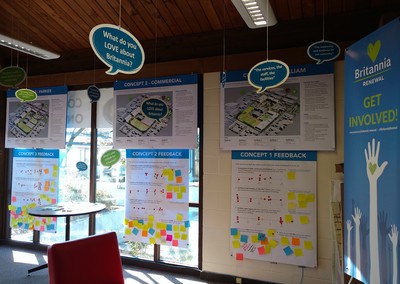 The concepts are on display at the Britannia Info Centre B-LAB for the community to see and share feedback on in person.

 

View the full display of Concept Options presented at the February 2018 open house.

 

Everyone is also welcome to participate online and share your thoughts with a survey which is open until March 13.

 

Feedback from the survey will guide the Master Plan, which will be presented in April 2018. STAY ENGAGED!

 

Britannia Renewal: Concept Survey is now closed.

 

Join us at a Mini Open House to review our site concepts, share your feedback, and see what others in the community are saying.

Britannia Library– Saturday, March 3rd 12-4pm

Britannia Ice Rink (Mezzanine Room)- Tuesday March 6th 4-9pm

Britannia 55+ Centre– Wednesday, March 7th 12-2pm

The site concepts are also posted in the Britannia Information Centre B-Lab. Drop in to see the responses from the community, complete a paper survey, and add your own feedback to our concept boards.
Post a Comment :
Comments are currently closed for this post.