Resilience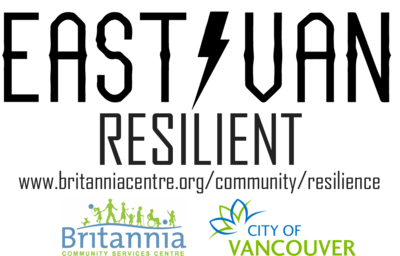 Community Resilience is the ability of a community to respond to and recover from both chronic and emerging physical, economic, and social challenges. This ranges from traditional earthquake and emergency preparedness to tackling problems of inequality, isolation, and opportunity gaps.
Community resilience is developed through community members coming together to address the challenges they identify in their neighbourhood, creating networks of connection and support, and developing strategies to create a better community for everyone.
The Grandview Woodland Community Resilience Project  is guided by a steering committee of community volunteers. The project is supported through a partnership between Britannia Community Services Society and the City of Vancouver.
Our work involves:
 

       

providing resources and support to existing neighbourhood groups and networks
 

       

working with community members to create new opportunities for community development
 

       

identifying the assets and challenges specific to our community
 

       

working with the community to support and develop strategies to build Grandview Woodland resilience
We are all East Van Resilient. We hope you will consider getting involved.
 

       

Join the Grandview Woodland Resilience Steering Committee
 

       

Subscribe to our project newsletter (link: http://eepurl.com/di5paL)
 

       

Participate in one of our resilience activities with your family, friends, coworkers, or club (find activity packages below)
 

       

Get in touch! Share your community resilience project or idea with us.