Britannia would like to assist those who are not able to afford the advertised cost of certain recreation programs; at the same time, our operation needs to be financially viable. Click here for our Subsidy Policy.
Britannia Events Calendar
Volunteer Garden Work Party – Soil is Life!
Mar 19, 2023 10:00 am - Mar 19, 2023 1:00 pm
Location: Transformed Life Garden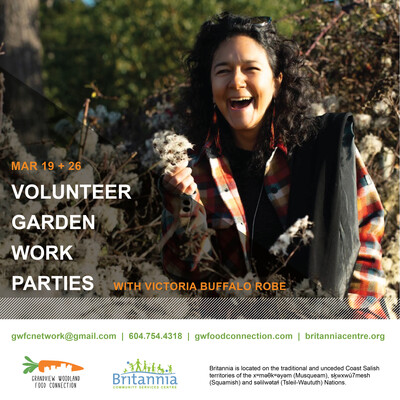 On Sunday, March 19th, we'll be prepping the garden beds by aerating the beds and adding some fresh soil in the Nexway̓s wa lh7áy̓nexw (Transformed Life) Garden – between StreetFront & the Courts skateboard park. The more hands we have the more fun this will be, so you are welcome to bring a friend and contribute to a local sustainable food system together! Our school and community gardens provide fresh organic veggies to the school, community, and food security programs. Join us in nourishing the garden from 10 am to 1 pm.
Sun                       10 am – 1 pm     Mar 19
Transformed Life Garden             Victoria

Events
Mar 1, 2023 7:15 pm - Mar 1, 2023 9:50 pm

Mar 5, 2023 6:00 pm - Mar 5, 2023 9:00 pm

Everyone is welcome to attend our movie series Sunday evenings in the 55+ Centre.


Mar 8, 2023 7:15 pm - Mar 8, 2023 9:50 pm

Mar 10, 2023 4:30 pm - Mar 10, 2023 8:30 pm

Mar 12, 2023 6:00 pm - Mar 12, 2023 9:00 pm

Everyone is welcome to attend our movie series Sunday evenings in the 55+ Centre.


Mar 15, 2023 7:15 pm - Mar 15, 2023 9:50 pm