Britannia would like to assist those who are not able to afford the advertised cost of certain recreation programs; at the same time, our operation needs to be financially viable. Click here for our Subsidy Policy.
Britannia Events Calendar
Stone Soup
May 10, 2014 12:00 pm - May 10, 2014 5:00 pm
Location: Napier Greenway
19th Annual Festival!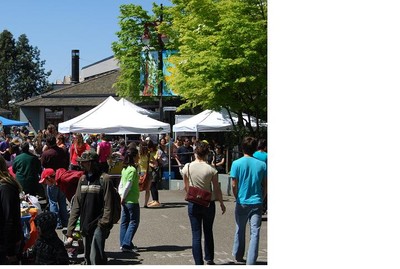 Spring is just around the corner and planning is in full swing for another great Stone Soup Festival.  This East Vancouver tradition brings community together in celebration of spring, food, the environment and community itself.
 
For further information please contact the Arts Programmer at 604-718-5825 or e-mail the .

Events
Jan 1, 2019 1:00 pm - Jan 1, 2019 3:30 pm

Location:

Britannia Ice Rink

All are welcome to attend our free public skate from 1:00-3:30pm

Skate rentals included.


Jan 2, 2019 6:30 pm - Jan 2, 2019 8:30 pm

Location:

Britannia Art Gallery

January Exhibition runs Jan 2-Feb 1
Featuring:
"The Seasons of Vancouver" a photo essay by John Wang
"The Highrises That Ate Vancouver" oil paintings on board by Deanna Fogstrom

Jan 4, 2019 8:00 pm - Jan 4, 2019 10:00 pm

Climb the WIBIT! Contests, prizes, games and crazy staff!

Jan 6, 2019 6:00 pm - Jan 6, 2019 9:00 pm

The Britannia Great Movies Series happens every Sunday evening from 6-9pm in the 55+ Centre. All our welcome to come and enjoy a movie and free popcorn!

Jan 13, 2019 6:00 pm - Jan 13, 2019 9:00 pm

The Britannia Great Movies Series happens every Sunday evening from 6-9pm in the 55+ Centre. All our welcome to come and enjoy a movie and free popcorn!

Jan 19, 2019 9:00 am - Jan 19, 2019 12:00 pm

Location:

Northwest corner of Parking Lot