Britannia would like to assist those who are not able to afford the advertised cost of certain recreation programs; at the same time, our operation needs to be financially viable. Click here for our Subsidy Policy.
Britannia Events Calendar
Britannia Elementary School Calendar
Britannia Library Monthly Events: March
Britannia Secondary School Calendar
Britannia Teen Centre: March
City of Vancouver Events Calendar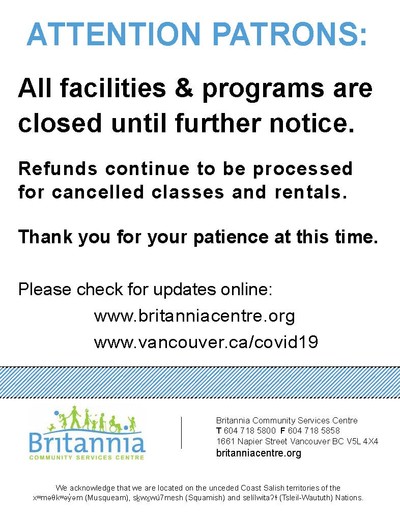 Britannia Christmas Craft Fair
Nov 22, 2020 10:00 am - Nov 22, 2020 4:00 pm
Location: Gym D
Every November Britannia hosts a 3 day Christmas Craft Fair which features a variety of hand made creations from local artists.
The $2 admission provides each shopper the chance to enjoy local live music, time for shopping and eating while kicking off the holiday season.
All proceeds from the concession and admission go towards Britannia HUB programs for inner city programming.
Craft Vendor applications and other info will be available by April.

Events
Apr 1, 2020 6:30 pm - Apr 1, 2020 8:30 pm

Location:

Britannia Art Gallery

Apr 3, 2020 8:00 pm - Apr 3, 2020 10:00 pm

Climb the WIBIT! Contests, prizes, games and crazy staff!

Apr 8, 2020 7:00 pm - Apr 8, 2020 8:30 pm

Location:

Britannia Art Gallery

Apr 18, 2020 9:00 am - Apr 18, 2020 12:00 pm

Location:

Northwest corner of Parking Lot