Britannia would like to assist those who are not able to afford the advertised cost of certain recreation programs; at the same time, our operation needs to be financially viable. Click here for our Subsidy Policy.
Britannia Events Calendar
Britannia Elementary School Calendar
Britannia Library Monthly Events: March
Britannia Secondary School Calendar
Britannia Teen Centre: March
City of Vancouver Events Calendar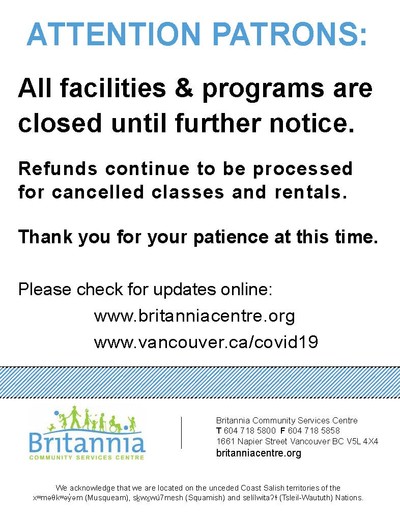 Overdose Management Training
Jan 8, 2020 6:30 pm - Jan 8, 2020 7:30 pm
Location: Rink Mezz
This course will provide the participant with relevant training on how to effectively administer naloxone in an overdose situation, as well as airway and breathing regulation.
Individuals taking this course also receive a naloxone kit, pocket mask and certificate issued under Vancouver Coastal Health.
If course roster is full please put your name on wait list as additional courses may be scheduled depending on demand.
#255218        $10/ 1 sess

Events
Mar 1, 2020 6:00 pm - Mar 1, 2020 9:00 pm

The Britannia Great Movies Series happens every Sunday evening from 6-9pm in the 55+ Centre. All are welcome to come and enjoy a movie and free popcorn!

Mar 4, 2020 6:30 pm - Mar 4, 2020 8:30 pm

Location:

Britannia Art Gallery




Mar 6, 2020 8:00 pm - Mar 6, 2020 10:00 pm

Climb the WIBIT! Contests, prizes, games and crazy staff!

Mar 8, 2020 1:00 pm - Mar 8, 2020 4:00 pm

Mar 8, 2020 6:00 pm - Mar 8, 2020 9:00 pm

The Britannia Great Movies Series happens every Sunday evening from 6-9pm in the 55+ Centre. All are welcome to come and enjoy a movie and free popcorn!

Mar 15, 2020 7:00 pm - Mar 15, 2020 9:30 pm