Britannia would like to assist those who are not able to afford the advertised cost of certain recreation programs; at the same time, our operation needs to be financially viable. Click here for our Subsidy Policy.
Britannia Events Calendar
Britannia Elementary School Calendar
Britannia Library Monthly Events: March
Britannia Secondary School Calendar
Britannia Teen Centre: March
City of Vancouver Events Calendar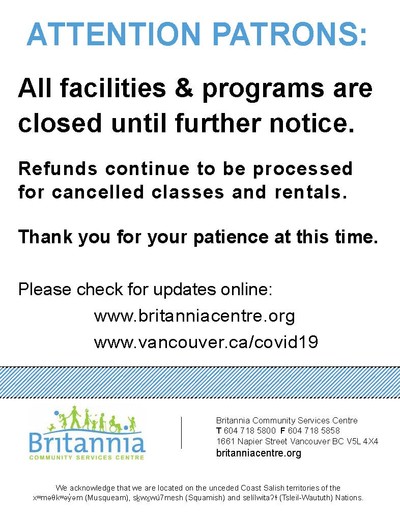 Books of Love Workshop
Feb 8, 2020 1:00 pm - Feb 8, 2020
Location: 55+ Centre
An annual favourite returns! This year we will create books of love. Big or small, embellished with an assortment of colour, collage, text, sparkles or sweet and simple. The options are endless in this hands-on workshop. Expect creativity, laughter and the cultivation of love.
All ages welcome! All materials supplied. Free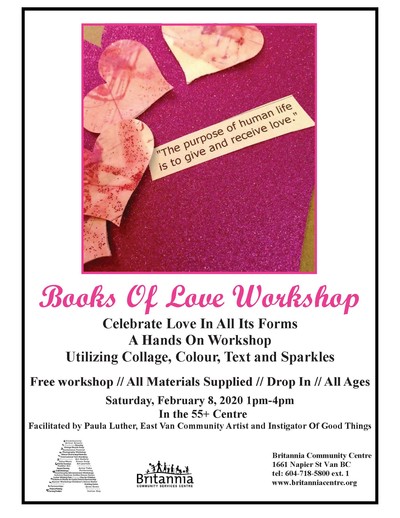 Events
Apr 1, 2020 6:30 pm - Apr 1, 2020 8:30 pm

Location:

Britannia Art Gallery

Apr 3, 2020 8:00 pm - Apr 3, 2020 10:00 pm

Climb the WIBIT! Contests, prizes, games and crazy staff!

Apr 8, 2020 7:00 pm - Apr 8, 2020 8:30 pm

Location:

Britannia Art Gallery

Apr 18, 2020 9:00 am - Apr 18, 2020 12:00 pm

Location:

Northwest corner of Parking Lot