Britannia would like to assist those who are not able to afford the advertised cost of certain recreation programs; at the same time, our operation needs to be financially viable. Click here for our Subsidy Policy.
Britannia Events Calendar
Britannia Elementary School Calendar
Britannia Library Monthly Events: March
Britannia Secondary School Calendar
Britannia Teen Centre: March
City of Vancouver Events Calendar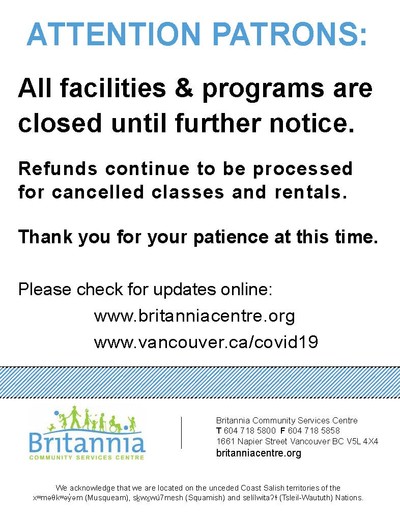 Parade of Lost Souls 2019: S.O.S.
Nov 2, 2019 7:00 pm - Nov 2, 2019 10:00 pm
Location: Map released day of event
Turn your minds to the sea, smell the salt, feel the breeze. The Parade of Lost Souls 2019 is Marine Themed. S.O.S. Save our Souls echoes through the streets. Dive in. Hold your breath. Float and glide on the waves. The water is on our minds and in our bodies and we will both celebrate and grieve it together in the Parade of Lost Souls. Because, If we are lost, then we are lost together. (Cuddy/Keelor)
More details will be available here.

Events
Mar 1, 2020 6:00 pm - Mar 1, 2020 9:00 pm

The Britannia Great Movies Series happens every Sunday evening from 6-9pm in the 55+ Centre. All are welcome to come and enjoy a movie and free popcorn!

Mar 4, 2020 6:30 pm - Mar 4, 2020 8:30 pm

Location:

Britannia Art Gallery




Mar 6, 2020 8:00 pm - Mar 6, 2020 10:00 pm

Climb the WIBIT! Contests, prizes, games and crazy staff!

Mar 8, 2020 1:00 pm - Mar 8, 2020 4:00 pm

Mar 8, 2020 6:00 pm - Mar 8, 2020 9:00 pm

The Britannia Great Movies Series happens every Sunday evening from 6-9pm in the 55+ Centre. All are welcome to come and enjoy a movie and free popcorn!

Mar 15, 2020 7:00 pm - Mar 15, 2020 9:30 pm