Britannia would like to assist those who are not able to afford the advertised cost of certain recreation programs; at the same time, our operation needs to be financially viable. Click here for our Subsidy Policy.
Britannia Events Calendar
Britannia Elementary School Calendar
Britannia Library Monthly Events: March
Britannia Secondary School Calendar
Britannia Teen Centre: March
City of Vancouver Events Calendar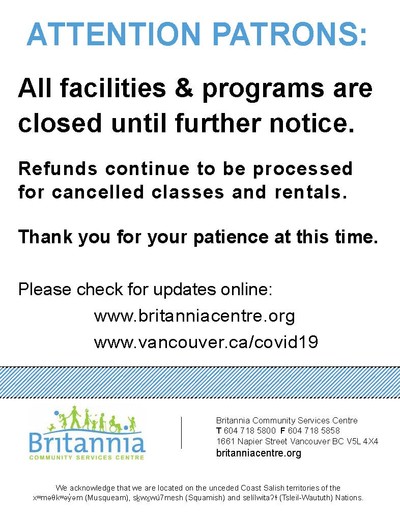 19th Annual Artful Sundays
Aug 25, 2019 12:00 pm - Aug 25, 2019 5:00 pm
Location: Napier Greenway
Britannia Community Centre will host an outdoor, visual arts market in the Napier Greenway (Napier St @ Commercial Dr) on four Sundays this summer.
The market features the work of local artists, live music, artist workshops, demonstrations and more!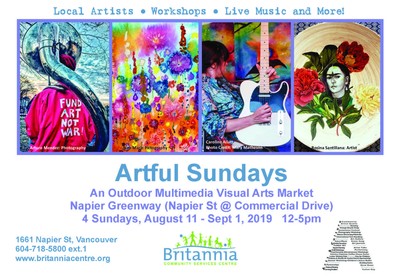 Events
Apr 1, 2020 6:30 pm - Apr 1, 2020 8:30 pm

Location:

Britannia Art Gallery

Apr 3, 2020 8:00 pm - Apr 3, 2020 10:00 pm

Climb the WIBIT! Contests, prizes, games and crazy staff!

Apr 8, 2020 7:00 pm - Apr 8, 2020 8:30 pm

Location:

Britannia Art Gallery

Apr 18, 2020 9:00 am - Apr 18, 2020 12:00 pm

Location:

Northwest corner of Parking Lot