Britannia would like to assist those who are not able to afford the advertised cost of certain recreation programs; at the same time, our operation needs to be financially viable. Click here for our Subsidy Policy.
Britannia Events Calendar
Britannia Elementary School Calendar
Britannia Library Monthly Events: March
Britannia Secondary School Calendar
Britannia Teen Centre: March
City of Vancouver Events Calendar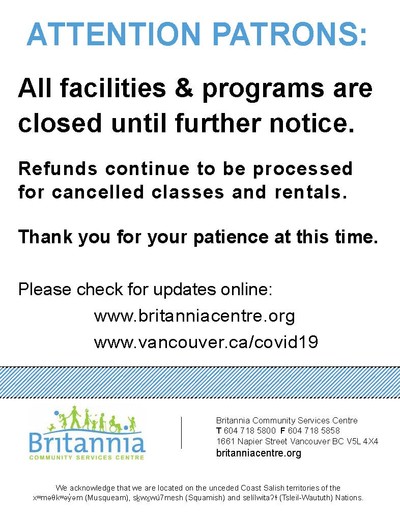 EPIC Sunday Community Lunch
Jun 23, 2019 12:00 pm - Jun 23, 2019 3:00 pm
Location: Family Activity Room
Share, learn and eat!
This is an opportunity for Indigenous and non-Indigenous community members to share a meal and discuss issues that are important to them. Endangered Indigenous languages, adaptation to climate change, mental health, and much more.
Feel free to bring something to share.
No registration required.
A series of meeting dates:
Sunday   12:00-3:00pm
Jun 23, Jul 21, Aug 18, Sep 22, Oct 20

Events
Apr 1, 2020 6:30 pm - Apr 1, 2020 8:30 pm

Location:

Britannia Art Gallery

Apr 3, 2020 8:00 pm - Apr 3, 2020 10:00 pm

Climb the WIBIT! Contests, prizes, games and crazy staff!

Apr 8, 2020 7:00 pm - Apr 8, 2020 8:30 pm

Location:

Britannia Art Gallery

Apr 18, 2020 9:00 am - Apr 18, 2020 12:00 pm

Location:

Northwest corner of Parking Lot