Britannia would like to assist those who are not able to afford the advertised cost of certain recreation programs; at the same time, our operation needs to be financially viable. Click here for our Subsidy Policy.
Britannia Events Calendar
Britannia Elementary School Calendar
Britannia Library Monthly Events: March
Britannia Secondary School Calendar
Britannia Teen Centre: March
City of Vancouver Events Calendar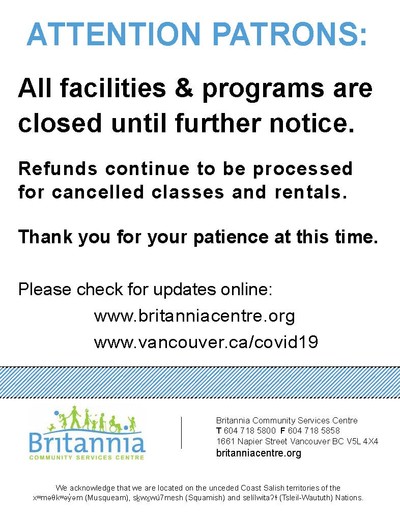 Heart Garland Workshop 2019
Feb 9, 2019 1:00 pm - Feb 9, 2019 4:00 pm
Location: 55+ Centre
An annual favourite returns, this year with heart garlands. We will create garlands of love, with a myriad of collage, colour, text and sparkle options in this hands on workshop. String your love for all to see, keep as a sweet offering to self, or somewhere in between. Expect creativity, laughter and the cultivation of love.
All are welcome to join in this free workshop event, and materials are supplied. Facilitated by Paula Luther, East Van community artist and instigator of good things.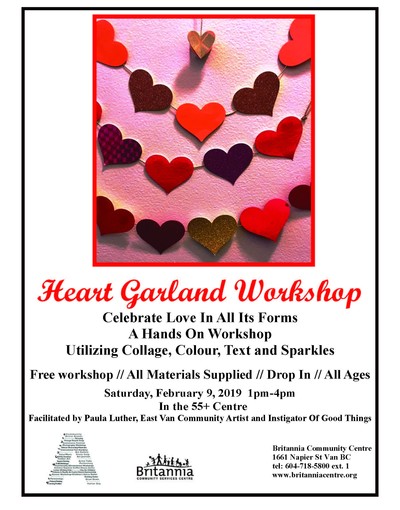 Events
Mar 1, 2020 6:00 pm - Mar 1, 2020 9:00 pm

The Britannia Great Movies Series happens every Sunday evening from 6-9pm in the 55+ Centre. All are welcome to come and enjoy a movie and free popcorn!

Mar 4, 2020 6:30 pm - Mar 4, 2020 8:30 pm

Location:

Britannia Art Gallery




Mar 6, 2020 8:00 pm - Mar 6, 2020 10:00 pm

Climb the WIBIT! Contests, prizes, games and crazy staff!

Mar 8, 2020 1:00 pm - Mar 8, 2020 4:00 pm

Mar 8, 2020 6:00 pm - Mar 8, 2020 9:00 pm

The Britannia Great Movies Series happens every Sunday evening from 6-9pm in the 55+ Centre. All are welcome to come and enjoy a movie and free popcorn!

Mar 15, 2020 7:00 pm - Mar 15, 2020 9:30 pm