Britannia would like to assist those who are not able to afford the advertised cost of certain recreation programs; at the same time, our operation needs to be financially viable. Click here for our Subsidy Policy.
Britannia Events Calendar
Britannia Elementary School Calendar
Britannia Library Monthly Events: March
Britannia Secondary School Calendar
Britannia Teen Centre: March
City of Vancouver Events Calendar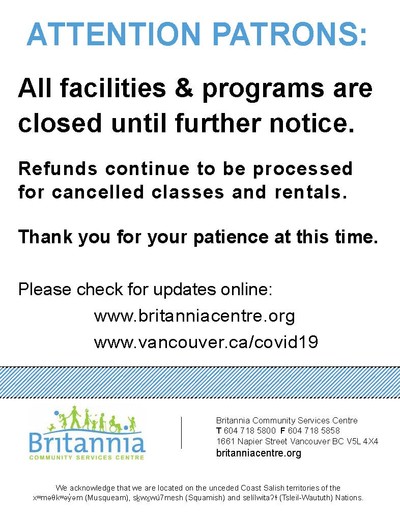 Mini Open House
Mar 7, 2018 12:00 pm - Mar 7, 2018 2:00 pm
Location: 55+ Centre
Join us at a Mini Open House to review our site concepts, share your feedback, and see what others in the community are saying.
Britannia Library– Saturday, March 3rd 12-4pm
Britannia Ice Rink (Mezzanine Room)- Tuesday March 6th 4-9pm
Britannia 55+ Centre– Wednesday, March 7th 12-2pm
The site concepts are also posted in the Britannia Information Centre B-Lab. Drop in to see the responses from the community, complete a paper survey, and add your own feedback to our concept boards.

Events
Mar 1, 2020 6:00 pm - Mar 1, 2020 9:00 pm

The Britannia Great Movies Series happens every Sunday evening from 6-9pm in the 55+ Centre. All are welcome to come and enjoy a movie and free popcorn!

Mar 4, 2020 6:30 pm - Mar 4, 2020 8:30 pm

Location:

Britannia Art Gallery




Mar 6, 2020 8:00 pm - Mar 6, 2020 10:00 pm

Climb the WIBIT! Contests, prizes, games and crazy staff!

Mar 8, 2020 1:00 pm - Mar 8, 2020 4:00 pm

Mar 8, 2020 6:00 pm - Mar 8, 2020 9:00 pm

The Britannia Great Movies Series happens every Sunday evening from 6-9pm in the 55+ Centre. All are welcome to come and enjoy a movie and free popcorn!

Mar 15, 2020 7:00 pm - Mar 15, 2020 9:30 pm