Britannia Preschool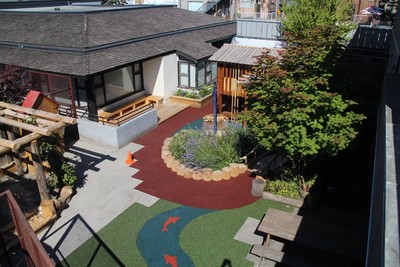 Britannia Preschool: Fees are per month

 3 day class AM: Mon, Tue, Wed, 9:00-11:30 am, $255
 3 day class PM: Mon, Tue, Wed, 12:30-3:00 pm, $255
 2 day class AM: Thu, Fri, 9:00-11:30 am, $180
 2 day class PM: Thu, Fri, 12:30-3:00 pm, $180

 

One month's written notice, by the last day of the previous calendar month, is required when withdrawing your child from the program or one month's fee payment in lieu of one month's notice.

 

For families on subsidy, your subsidy will be billed for the entire month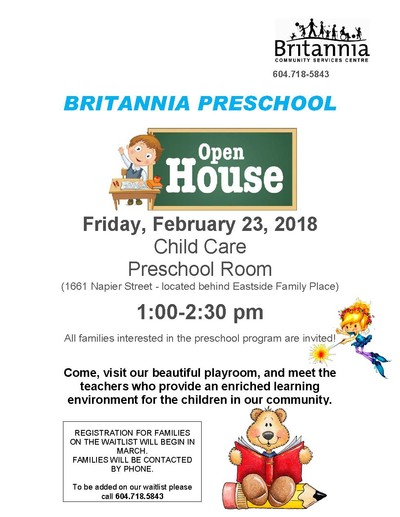 If you would like to register or be added to our waitlist please contact the Senior Supervisor at 604-718-5843.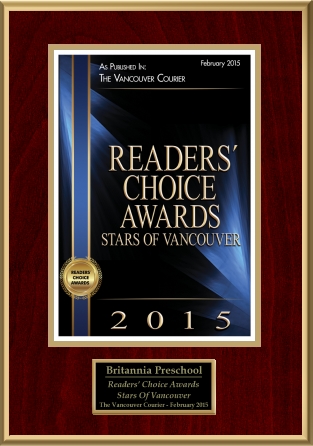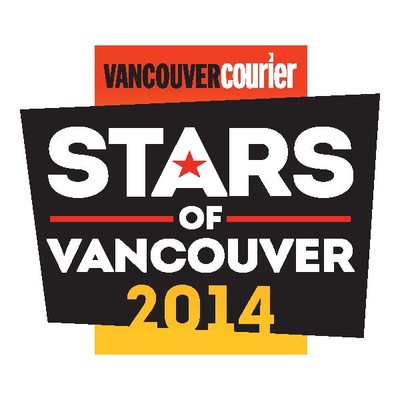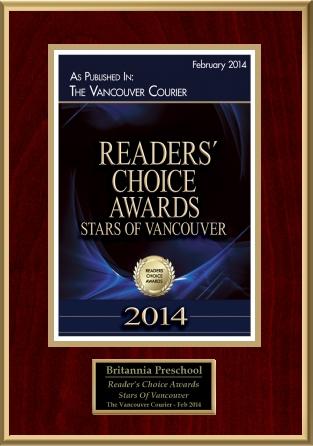 The Preschool program was nominated and awarded a third place star in the Vancouver Courier "Stars of Vancouver Readers Choice" on February 28, 2014. The Preschool Staff have worked really hard in the past year to receive such an honour.

Britannia Preschool (3-5 Yrs.)
Know You Can! The Little Preschool That Could
"Virtual Tour" of the Preschool
Highly experienced, qualified and Licensed Early Childhood Educators will develop a rich and meaningful child-centered
environment in which children can learn and grow in all areas of development. Our program will include the exploration of Art
Throughout History, from which children will gain an understanding of art and the importance of creativity. Through hands on experimentation and exploration of a variety of materials, techniques, ideas and information, we will experience the journey of art through the ages. We will also highlight multiculturalism and diversity, celebrations, dance and languages from around the world. We offer a part time, or full time program from September to June.
Our Centre welcomes students from several post-secondary schools to do their practicum learning and training within the Preschool program. It is out ongoing mission to actively participate in the development of high quality Early Childhood Educators. All students and volunteers undergo a thorough criminal record and health check prior to acceptance into our facility. Their bio's are posted at the preschool entrance, where you can learn about their individual backgrounds and interests.

Registration will take place in the Spring (for external families). If the formal registration is missed, please call 604.718.5843 for more information. Registration is on-going throughout the school year dependent on availability of spaces.
If you would like to be added to our waitlist please contact the Senior Supervisor at 604.718.5843
Our Philosophy:
Preschool is a place for children to grow and flourish intellectually, artistically, physically, socially and emotionally. During this process children develop language skills, test their abilities, acquire new skills, understand concepts and develop an awareness of themselves and others.
Please refer to our program brochure for more details about our program. Pick up a brochure at the Preschool or the Information Centre.
PRESCHOOL CLOSURES
CLOSED ALL STATUARY HOLIDAYS
Labour Day                 Monday, September 4
Thanksgiving Day      Monday, October 9
Remembrance Day   Monday, November 13
New Year's Day         Monday, January 1
Family Day                 Monday, February 12
Good Friday               Friday, March 30
Easter Monday            Monday, April 2
Victoria Day                 Monday, May 21
PRESCHOOL IS CLOSED THE FOLLOWING
In order to maintain a high quality program we will be closed for program planning/maintenance days to plan and prepare accordingly.
Program Planning         Friday, October 6, 2017
Program Staff Pro D     Friday, November 10, 2017
Winter Break                December 25 –January 5, 2018
First day back to Preschool, Monday January, 8, 2018
Open House/Planning  Friday, February 23
Spring Break                March 19 to 30
First day back to Preschool ,Tuesday April 3, 2018
Last day of Preschool classes
Tuesday June 26, 2018
SPECIAL DATES
BOTH EVENTS 10AM-12PM
Winter Carnival Brunch         Friday December 22
Graduation Day                      Friday, June 22
Regular classes cancelled on Winter Carnival and Graduation Day
Contact: Lorraine Evans, 604.718.5843
Office: 1661 Napier Street, Vancouver, BC  V5L 4X4