Sustainable Opportunities for Youth Leadership (SOYL) (completed)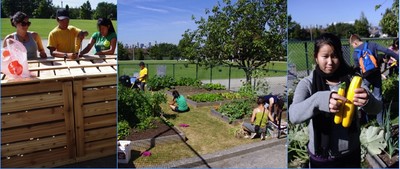 The Grandview Woodland Food Connection is pleased to partner with the Sustainable Opportunities for Youth Leadership (SOYL) Summer Internship to cultivate environmental leadership skills in adolescents, promote a sustainable local food system, and advance sustainable food production through gardening at schools.


SOYL empowers secondary students to build and steward natural spaces on school grounds for learning, community building, and growing Good Food for All! Youth receive a stipend for their contributions and a delicious lunch grown for and cooked by their peers!
For seven weeks of the summer, SOYL Crew Members grow food sustainably in schoolyard market gardens, run a market stand, cook and share healthy meals, develop and sell a value-add product, and contribute to building healthy and resilient community.
In addition to working in the fields, SOYL Crew Members participate in workshops about sustainable food systems and food justice, diversity, personal growth, personal finance, and leadership. Each week, SOYL youth spend one day in community service learning with a local food organization.
Why Join the SOYL Program?
Grow healthy fresh food! 
Cook with chefs. 
Earn money. 
Learn about your community. 
Meet new friends. 
Spend the summer outdoors. 
Grow personally and professionally. 
Eat delicious food!
SOYL is a collaboration between the Intergenerational Landed Learning Faculty of Education and Fresh Roots