Networking and Partnerships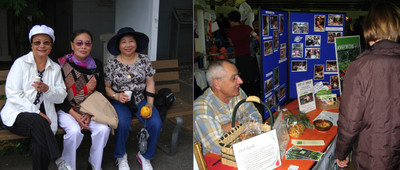 Networking and building partnerships is a key activity of the GWFC better enabling community members as well as a diversity of constituencies and organizations to work together to address community food justice, ensure broad participation, and foster stronger connections between Britannia and the community.
Through outreach, the monthly GWFC E-newsletter, GWFC blog, community presentations, attending community meetings, project collaboration, and on-going support of other groups, the GWFC is actively promoting the values and principals of Britannia Community Centre. The GWFC is working with a range of groups from grassroots planning through to support and assistance in policy development with municipal and regional agencies. 
To join the Grandview Woodland Food Network and receive monthly E-newsletters please email
The GWFC has collaborated and partnered with 41 groups including:
Architects for a Green Legacy
BC Housing
Britannia Library
Britannia Latin American Youth Project
Britannia Art Gallery
Britannia Teen Centre
Britannia Elementary and Secondary Schools
Canadian Diabetes Association
Canadian El Salvador Action Network (CELSAN)
Canadian Mental Health Association
City of Vancouver
City of Vancouver Cold Weather Shelter Program
Community Food Centres Canada
Disabled Independent Gardeners Association (DIGA)
Eastside Family Place
Environmental Youth Alliance
Evergreen Foundation
Fresh Roots
Grandview Woodland Area Services Team
Grandview Woodland Mental Health Team
Greater Vancouver Food Bank – Fresh Choice Kitchens
Hastings Community Centre
Haley Place Women's Housing
Healthy Planet Kitchens
Kiwassa Neighbourhood House
Little Mountain Neighbourhood House
McSpadden Park County Fair
Multicultural Family Centre
Pandora Park Community Garden
Promoting Action Together Towards Health (PATH)
Promoting Healthy Options on the Drive (PHOOD)
Quest
RAÍCES Latin American Cultural Society
Reach Community Health Centre - We Love Veggies Program
Roundhouse Community Centre
Slow Food Vancouver
Society Promoting Environmental Conservation (SPEC)
Sustainable Opportunities for Youth Leadership (SOYL), UBC Landed Learning Project
Sustenance Festival
The Co-Design Group
The Compassion Club
UBC School of Community and Regional Planning (SCARP)
UBC Think and Eat Green
Vancouver Coastal Health Dietitians 
Vancouver Coastal Health - Healthy Living Alliance
Vancouver Food Policy Council
Vancouver Fruit Tree Project
Vancouver Coastal Health
Vancouver Neighborhood Food Networks
Vancouver Community Agriculture Network
Vancouver Native Health
YMCA - Nannok Family Place
Wild Salmon Caravan
Woodland Park Community Garden