Cooking and Food Preparation Workshops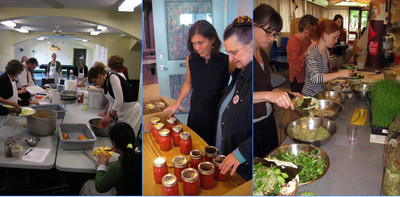 A range of basic food preparation and preserving workshops are offered at Britannia Community Centre and in the community, which are helping to build skills toward improved dietary choices, food literacy, and proficiency in food preparation.

Workshops include canning, raw fermentation, sauerkraut, healthy eating on a tight budget, sprouting, bread making and more. These workshops are offered at low cost in order to keep them accessible.
To date, around 500 community members have attended these workshops. Interest is high and we plan to continue to offer more workshops in the future. If you have a particular food preparation skill and would like to teach a course, please let us know. We would be happy to arrange for you to teach a workshop.