Buen Provecho! (completed)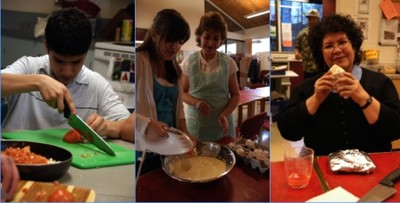 Buen Provecho is bringing together elders and youth from various cultural backgrounds in a sharing of traditional foods and stories. Elders will mentor the youth in cooking and together create a cookbook and digital storytelling project that values the knowledge of elders and the passing down of this knowledge to youth.
Buen Provecho! is promoting respect, mutual understanding, and awareness of cultural foods and knowledge as valuable community assets. The creation of a cookbook and storytelling project will further build pride and cultural identity among project participants, keep traditional food recipes alive, and teach youth healthy eating.
Project Partners
Multicultural Family Centre Latin American Seniors Group
South Granville Seniors Centre
Britannia Seniors
Britannia Latin American Youth Project
Britannia Teen Centre
RAICES Latin American Cultural Society
The Grandview Woodland Food Connection
Britannia Secondary School
Funded by the Government of Canada under the New Horizons for Seniors Initiative