Special Events (on-going)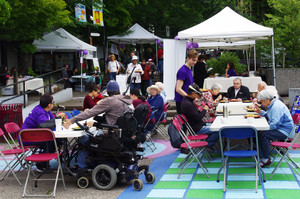 The GWFC is pleased to participate in numerous special events throughout the year. Whether we are tabling to share information or helping to prepare food and other activities, it is important work that helps inform, educate, and build social connections.
1. Sharing Food Sharing Culture - Sustenance Festival 2019
The GWFC along with Flavours of Hope held an enjoyable cross cultural food sharing event where we were joined by three amazing newcomer women – from the Philippines, Saudi Arabia, and Venezuela who shared some of their favorite recipes and food stories. A rich diversity of community members joined in the preparation of the food, followed by delicious eating and story sharing.
Reconciliation in Action 2019