Fractal Farm Community Shared Agriculture Partnership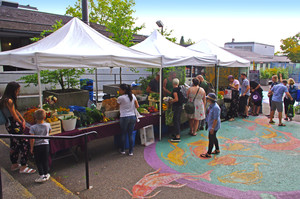 Fractal Farm is a local grower of sustainable vegetables based in East Vancouver and Richmond. They have partnered with Britannia Community Services Centre and the Grandview Woodland Food Connection where Britannia has provided Fractal Farm space to set up their Community Supported Agriculture* program. In return, Fractal Farm supports a variety of programs at Britannia with donated fresh, sustainable vegetables. In the first year of this partnership, Britannia received $2,737 worth of high quality organic vegetables that supported our seniors and elder food programs.
*Community Supported Agriculture is a model by which community members purchase membership shares ahead of the season and receive weekly veggie boxes where they are picked up a community depots. This model provides greater financial certainty to farmers and shares the risk across the community. The farmer receives income at the beginning of the season despite possible crop failures and financial loss.