Camps at Britannia
Summer 2019 calendar, waiver and registration packages are available below.
Summer Camp Info:
Funseekers | Preteen Adventures | Gymnastics | Tech n' Rec
Registration for all summer camps at Britannia is open and ongoing.
Funseekers Day Camp (6-12 yrs)
There are many activities and out-trips planned for the WInter Break Funseekers program! Come learn new skills, meet new friends, or simply to have FUN! Swim, skate, learn arts & crafts, play group games, go on out-trips and more!
Special emphasis is placed on the use of the Equitas program "Play it Fair" which is designed to promote human rights, inclusion, anti-discrimination, respect for diversity, and the peaceful conflict resolution among children.
Register early to avoid disappointment. Please provide lunch, snack, and water daily. Parents are required to complete consent forms.
Funseekers Concellation Policy: a $5 administration fee will be charged for each camp a refund is requested for. Refund requests must be made a minimum of one week (7 days) prior to the start of the program. No refunds after this time.

Mon-Fri      9:00am -3:00pm     $99/ 5 days
Consent Form - Week 3 - Younger
Check out the full Funseekers Summer Calendar!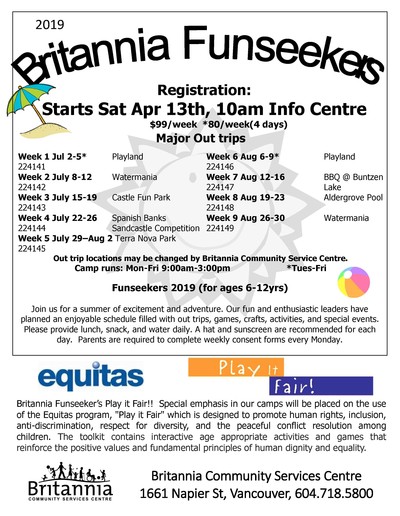 Preteen Adventure Camp (10-14 yrs)
Spend the week out and about, discovering what Vancouver and the surrounding area has to offer. Be prepared for an action packed week of out-trips, activity and FUN!
Mon, Tue, Thu, Fri       11:00am-5:00pm          $125/week
Wed                               9:00am-3:00pm
Preteen Adventure Waiver Forms
Week 2 - New Camper Waiver Package
Week 2 - Returning Camper Waiver Package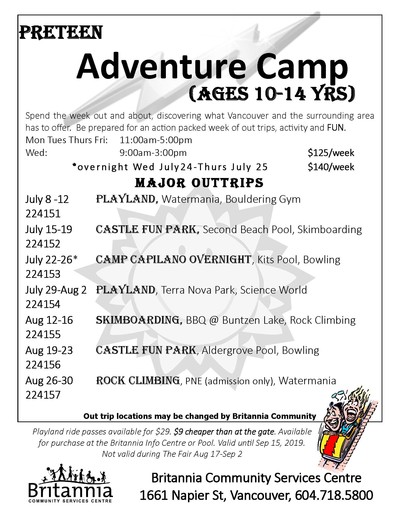 Children will be jumping for joy after 5 days of jam-packed gymnastics fun. Kids will learn gymnastics skills on beam, bars, floor and vault from our fantastic and enthusiastic coaching staff. Children should bring a snack, lunch, water. Drop your children off at Britannia Gym C at 9:30am and pick up at 3:30pm sharp.
Check www.britanniagymnastics.com for updates.
224624 - Week 1, Jul 2-5           $200
224625 - Week 2, Jul 8-12         $225
224626 - Week 3, Jul 15-19       $225
224627 - Week 4, Jul 22-26       $225
228336 - Week 5, Jul 29-Aug 2  $225
Early Drop-off/Late Pick-up
7:30-9:30am $45/wk ($35/wk for Week 1, Jul 2-5)
3:30-5:30pm $45/wk ($35/wk for Week 1, Jul 2-5)
This year we will be offering early drop-off and late pick-up options for our gymnasts. No gymnastics will be taught during this time — children will engage in light activities. Children must be enrolled in the daycamp to register for the early drop-off and late pick-up options.
Mon-Fri    9:00am-3:30pm     $75
*Tue-Fri   9:00am-3:30pm     $60
Ages 7-9
227011 Week 1 - Claystation   *Jul 2-5
227012 Week 2 - Robotics        Jul 8-12
227013 Week 3 - Fibre Arts      Jul 15-19
227014 Week 4 - Stem Building   Jul 22-26
Ages 10-13
227021 Week 1 - Science & Nature  *Jul 2-5
227022 Week 2 - Mini Chefs 101       Jul 8-12
227023 Week 3 - Robotics & Coding  Jul 15-19
227024 Week 4 - Fibre Arts                Jul 22-26
Registration form and more details.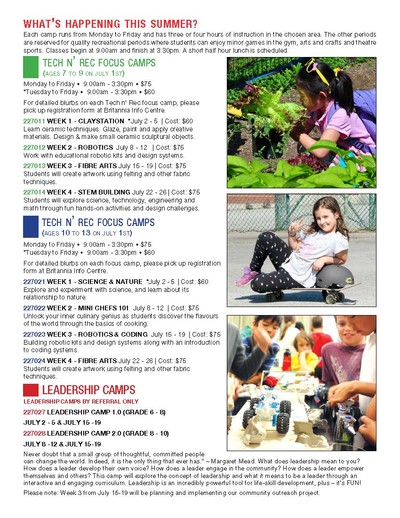 Summer Unlimited is a unique program which offers recreational opportunities to youth 13-19 years with special needs. Participants take part in a wide range of activities in and around the city, meeting new friends and acquiring new skills. Knowledgeable staff, in-program transportation and one to one volunteers are provided to maximize the youth's participation and enjoyment of the program.
Call 604-718-5873 for more info. Registration and intake must all be approved by Summer Unlimited staff.
Login
To develop, coordinate and support a wide range of excellent programs and services for Grandview-Woodland and Strathcona, by working with community members, partners, and local agencies.