Weaving Our Community Together (WOCT)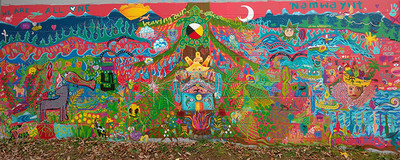 Mural: Weaving Our Community Together, Oct 2018. Painted by intergenerational community with artist Hazel Bell-Koski.
What is WOCT?
Weaving our Community Together brings Indigenous youth, elders and other community members together for mutual sharing, learning, connecting and growing. WOCT features elder and youth circles, mentorship activities, cross-cultural sharing and outreach to promote belonging, respect, cultural pride and intergenerational learning.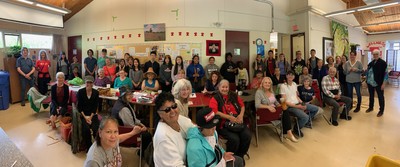 June 2019 - WOCT gathering with youth & elders
 
WOCT Change of Season Gathering
Join us for this cross-cultural feast filled with music, dance, and fun, shared food and stories. Invite your friends and family.
Wed     5:00-7:30pm   Dec 18
55+ Centre
WOCT Wednesday Elders Group
Enjoy cultural crafting, peer support, and sharing with Indigenous and non-Indigenous Elders and others.
Wed    1:00-4:00pm    Sep 4-Dec 11
55+ Centre
WOCT Thursday Elders Craft Collective
Following in the footsteps of Traditional Grandmothers, we are sharing traditional artistic skills and cultural knowledge with all the generations. Afternoon crafts, food and sharing. Everyone welcome.
Thu    1:30-4:00pm     Sep 5-Dec 4
55+ Centre
WOCT Indigenous Men's Drum Circle
Drumming, singing, smudge and cultural stories.
Tue      5:00-7:30pm     Sep 10-Dec 10
CFEC