55+ Programs and Highlights
The 55+ Team are here working to toward your safe return to onsite programs. Please see below for information on groups and summer 55+ onsite programs available at this time. Also enjoy the beginning of our new series Covid Stories!
If you have further questions please give us a call at Britannia 604-718-5800 or the 55+ Centre 604-718-5837.

Looking forward to seeing folks on site again!
Fall Programs
Browse all of the 55+ Programs from the Britannia Brochure.
(Updated: Aug 31)
International Day of Older Persons
October 1 2021
Britannia Groups
HATTA: Healthy Aging Through the Arts
Hi Folks - we are able to hold a summer set (July-Sept) of Hat Weaving thanks to Arts & Health!
Please fill in the Letter of Interest for online Cedar Hat Weaving. This class is held by Britannia 55+ with instructor Todd DeVries through Zoom Classes (link will be sent to participants before class start). Registration will only be accepted through a filled out Letter of Interest as it is easier to manage than through Facebook message interest.
This information is kept entirely confidential by the Britannia 55+ Staff. Only fill out what you are comfortable with, and you may opt out of the photo release form. (We will then ask you to turn off video for photos and recordings).
Please fill out and email back to
Or print and drop off at Britannia Community Centre c/o Kya Prince.
Thank you as always for your continued support in Britannia and in Todd!
Weaving Our Community Together
Weaving our Community Together (WOCT) brings Indigenous youth, elders and other community members together for mutual sharing, learning, connecting and growing. For more information, visit the WOCT page by clicking here.
55+  Cedar Weaving and Crafts
Every Wednesday from 12:00-1:00pm. New members always welcome. We also have weekly Zoom Gatherings and Chat groups, activities, resources and best of all good company. To stay in the loop, join our Facebook group here.
Quirk-e
Quirk-e, the Queer Imaging & Riting Kollective for Elders, is one of the founding groups of the Parks Boards Arts & Health projects. Members have worked together for the last 15 years to produce and electric and eclectic mix of artistic productions that have included, theatre, imagery, digital storytelling, spoken word and writing. Quirk-e are meeting Virtually on Tuesdays 11:00am – 1:00pm.  If you're interested in joining this group please contact Anne at .
Community News & Resources
Together We Stand: Queer Elders Speak Out
Quirk-e's latest publication is out now! Together We Stand: Queer Elders Speak Out is a collection of memoir, poetry, play-writing, graphic stories, travel tales, and political action stories from the experiences of 21 LGBTQ2S+ elders. The theme running throughout is how to build and maintain a queer writing, activist group that will give your voice space and support. Here's your chance to consider joining the telling of queer stories and the sharing of queer history as well as to enjoy ours. 
You can order it directly from the publisher at Lulu.com. It is available in print and as an eBook. You can also order Together We Stand: Queer Elders Speak Out from your favourite local bookstore.
COVID Comedies
Check out these short videos from Jill that might bring a little laughter and lift your spirits. Jill is a member of Britannia's creative and innovative Quirk-e. Thanks to Jill and her production crew for sharing your comedies with us!
View Self-isolation Spirits here.
View Self-isolation Blancmange here.
Choose to Move
Simple exercise and movement from home. To try this program recommended by UBC Pathways to Connections, click here.
Eagle Feather — Kazezemaka Myra Pierre's Story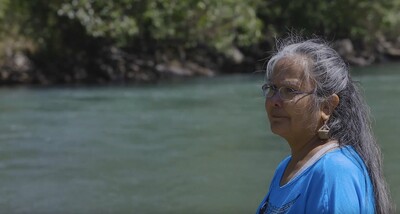 Kazezemaka Myra Pierre is a recipient of the DTES Small Arts Grants. Her collection of poetry, A Rising of Voices and Other Poems, is available now at the Vancouver Public Library. You can watch Kazezemzka's Story here.
CAP for Brain Health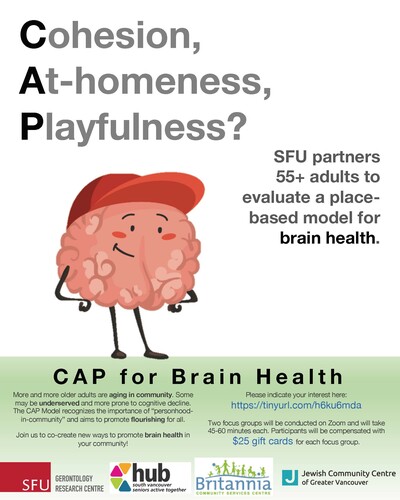 Further details and participant consent form here.
COVID Stories
Elder and Senior Crafters
With only weeks to graduation, it was suggested by the Elders and Seniors that they weave bracelets for the Britannia graduations students.  It was important to the group that young people in our community  be recognized for their success and accomplishments, especially this year. The logistics seemed impossible, 105 graduation students – 105 Cedar Bracelets, each senior would need to make many. This meant giving up their own projects, cedar and for the next weeks spend days weaving, and they did it! Each Britannia High School Graduate received, along with their diploma, a gift from their Elders.
My 95 year old Neighbour
During the Heatwave and plans for re-opening we had been making extra calls to Elders and Seniors. One of those calls was to Jack and Irene Fitzgerald, long time members, of the 55+ Centre and Britannia family who have lived and thrived in the Grandview Woodland neighbourhood for decades. (That's a story for another time)
Happy to report that Irene said they were doing fine, family was well and that Jack was watching a video their neighbour had made.  "It's on Reddit", I could hear Jack shouting in the background.  Here it is, with another message of community, resilience and a wee bit of Elder Wisdom.
Watch "The 95 Year Old Man Who Loves Full Speed Bike Rides" - https://www.youtube.com/watch?v=Ui_zpBPT77Q