55+ Programs and Highlights
Britannia Programs & Events
The 55+ Team are here working to toward your safe return to onsite programs. Please check out our summer 55+ onsite programs and we'll keep you posted with upcoming events.  If you have further questions please give us a call at Britannia 604-718-5800 or the 55+ Centre 604-718-5837.
| |
Looking forward to seeing folks on site again!
(*Registration/health check, mask and distance still required)
Osteofit Seniors 55+
A gentle strength, balance and coordination program designed to improve fitness and promote healthy bones. This program focuses on improving individual functional ability and quality of life, and reducing the risk of falls and fractures. It is taught by a trained Osteofit fitness instructor. 
Mon         1:30-2:30pm        Jul 5 - Aug 30
CFEC       $42
345809
Classical Chinese Dance
Classical Chinese dance uses body language to express different feelings. The dances include many graceful movements with beautiful music. It is a great way to enjoy music, exercise your body and learn Chinese culture.
Sat               10:00am-12:00pm         Jul 3 - Aug 28
Cafeteria       Free
345802
Seniors Chinese Folk Dance
Traditional Chinese Folk Dancing Lessons - everyone welcome! . No drop-ins. Please read important information below regarding safety procedures and participation in this class. Classes are much smaller but we will contact those on the waitlist as space is available. Please email us at for more information.
Fri           1:00-3:00pm         Jul 2 - Aug 27
CFEC      Free
345813
Line Dancing
This class is filled with fun, light musical movements, lots of laughs and is a great way to exercise and socialize!
Sat                  1:00-3:00pm            Jul 3 -  Aug 28
Cafeteria          Free

Change of Season Gathering
The Britannia 55+ Indigenous led drum circle invite you to a virtual change of seasons gathering, facilitated by elder seislom. As we reflect on the past seasons highs and lows, we also look forward to the summer ahead. There will be drumming and singing, sharing circle, and social time. The virtual gathering takes place on Monday, June 21, starting at 4:30pm. Please contact daniel cook, , for more info.
Indigenous led Hybrid Drum Circle
Elder Seislom and the Weaving Our Communities Together program invite you to join our 'Hybrid Drum Circle.' as we sing and drum to take care of our spirits, we ask that onsite participants observe the PHO Guidelines by keeping safe physical distance and to wear a mask. There will be a maximum amount of participants onsite, so please contact daniel cook () for more info and registration. We will also have a virtual device onsite for those wishing to participate from home on ZOOM. The hybrid drum circle takes place on Mondays, from 5-6pm.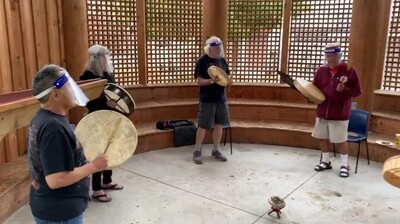 Check out Registration site for other summer programs.

 
Britannia Groups
HATTA: Healthy Aging Through the Arts
Hi Folks - we are able to hold a summer set (July-Sept) of Hat Weaving thanks to Arts & Health!
Please fill in the Letter of Interest for online Cedar Hat Weaving. This class is held by Britannia 55+ with instructor Todd DeVries through Zoom Classes (link will be sent to participants before class start). Registration will only be accepted through a filled out Letter of Interest as it is easier to manage than through Facebook message interest.
This information is kept entirely confidential by the Britannia 55+ Staff. Only fill out what you are comfortable with, and you may opt out of the photo release form. (We will then ask you to turn off video for photos and recordings).
Please fill out and email back to
Or print and drop off at Britannia Community Centre c/o Kya Prince.
Thank you as always for your continued support in Britannia and in Todd!
Weaving Our Community Together
Weaving our Community Together (WOCT) brings Indigenous youth, elders and other community members together for mutual sharing, learning, connecting and growing. For more information, visit the WOCT page by clicking here.
55+  Cedar Weaving and Crafts
Every Wednesday from 12:00-1:00pm. New members always welcome. We also have weekly Zoom Gatherings and Chat groups, activities, resources and best of all good company. To stay in the loop, join our Facebook group here.
Quirk-e
Quirk-e, the Queer Imaging & Riting Kollective for Elders, is one of the founding groups of the Parks Boards Arts & Health projects. Members have worked together for the last 15 years to produce and electric and eclectic mix of artistic productions that have included, theatre, imagery, digital storytelling, spoken word and writing. Quirk-e are meeting Virtually on Tuesdays 11:00am – 1:00pm.  If you're interested in joining this group please contact Anne at .
Community News & Resources
Together We Stand: Queer Elders Speak Out
Quirk-e's latest publication is out now! Together We Stand: Queer Elders Speak Out is a collection of memoir, poetry, play-writing, graphic stories, travel tales, and political action stories from the experiences of 21 LGBTQ2S+ elders. The theme running throughout is how to build and maintain a queer writing, activist group that will give your voice space and support. Here's your chance to consider joining the telling of queer stories and the sharing of queer history as well as to enjoy ours. 
You can order it directly from the publisher at Lulu.com. It is available in print and as an eBook. You can also order Together We Stand: Queer Elders Speak Out from your favourite local bookstore.
COVID Comedies
Check out these short videos from Jill that might bring a little laughter and lift your spirits. Jill is a member of Britannia's creative and innovative Quirk-e. Thanks to Jill and her production crew for sharing your comedies with us!
View Self-isolation Spirits here.
View Self-isolation Blancmange here.
Choose to Move
Simple exercise and movement from home. To try this program recommended by UBC Pathways to Connections, click here.
Eagle Feather — Myra Pierre's Story
Myra Pierre is a recipient of the DTES Small Arts Grants. Her collection of poetry, A Rising of Voices and Other Poems, is available now at the Vancouver Public Library. To watch a video about Mya, click here.