Hockey Programs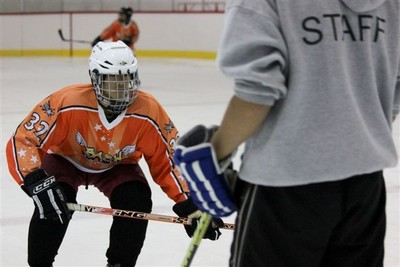 Adult Thursday Late Night Hockey
Full hockey equipment is mandatory. All levels welcome. Sign-up starts at 9:30 pm at the rink.
Thu, 11:00 pm-12:30 am, Jan 3-Mar 28
$10/drop-in (strip tickets not valid)
 
Adult Sunday Evening Hockey
Full hockey equipment is mandatory. Intermediate level. Sign-up and pay the program supervisor starting at 7:45 pm at the rink.
Sun, 9:45-11:15 pm, Jan 6-Mar 31
$15/drop-in or $50/month (strip tickets not valid)
 
Adult Stick and Puck
Full hockey equipment is recommended and helmets are mandatory. All levels welcome. No scrimmage. Space limited to 26 players, first come, first serve.
$6.40/drop-in or $51.25/10 tickets

Wednesday, 3:15am-4:45 pm, Jan 9-Mar 27
Pay at the pool cashier starting at 2:30 pm.

Friday, Noon-1:30 pm, Jan 4-Mar 29
Pay at the pool cashier starting at 11:30 am.


 

Women's Hockey Program
This pick-up hockey program is perfect for female hockey players looking to play hockey in a safe and inclusive environment. Full hockey equipment is mandatory. Some drop-in spaces may be available.
201214    Set 1 - Sun   Jan 6-Feb 10   10:45am-12:00pm
$32/6 sess or $6.40/drop-in
201215    Set 2 - Sun   Feb 17-Mar 31  10:45am-12:00pm  
$32/6 sess or $6.40/drop-in
 
Britannia Co-ed Hockey League - 2019 Program registration begins March 6.
This program is for novice to intermediate players in a non-contact recreational hockey league. Full equipment mandatory with a minimum half-shield on the helmet. All players will be assessed and placed onto teams by the league coordinators.
Games are played on Saturdays at 4:30, 6:00, 7:30, or 9:00.
 
Britannia Women Only Hockey League - 2019 Program registration begins in March 6.
This league begins with an on-ice evaluation. Full hockey equipment mandatory. 
If you are a goalie interested in playing in this league, contact .
 
VACHL - Vancouver Adult Co-Ed Hockey League 
This recreational league focuses on fun and safety and is perfect for beginner and lower intermediate players. Game times will be scheduled at the following arenas:  Britannia, Kerrisdale, Hillcrest, Sunset, Trout Lake and Killarney. Price for registration online includes a jersey. More information can be found at vachl.ca. or email .
Registration for VACHL will begin in May 2019.
 
VMHA - Vancouver Minor Hockey Association
Call 604.255.0612
 
Youth BASH Hockey, call Susy @ 604.718.5836