Hockey Programs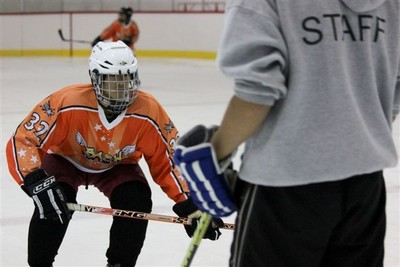 Rink Closure May 13 - August 2019
The Britannia Ice Rink will be shut down during Spring and Summer 2019. The rink's refrigeration system has come to the end of its lifecycle and needs renovations to comply with Technical Safety BC requirements.
The rink will close at the beginning of May 2019 with an anticipated reopening in September 2019. The Parks Board Arena team and the Britannia Rink Staff will work together on minimizing the impact on user groups by accommodating them at other PB rinks subject to demand and availability.
We look forward to seeing you in September!
Women's Hockey League
Britannia's Women's Hockey league is being offered this year in a shortened and modified format due to an extended maintenance closure at Britannia starting this spring.

Evaluations will take place on April 30th between 6:00-8:00pm at Britannia Arena. The game schedule will then take place as follows:

Tue May 7: Britannia Ice Rink – 6:00-7:15pm, 7:30-8:45pm

Sat May 18 – June 22: Hillcrest Ice Rink – 7:30-8:45pm, 9:00-10:15pm


This league is perfect for novice to intermediate players who wants to play organized recreational hockey this spring. Games are non-contact, non-aggressive and fun! Full hockey equipment is mandatory.

Please note that in-person and online registration begins at 9:00am on April 10 and phone-in registration (if spots remain) begins at 1:00pm.

Cost: $115/ 7 games + 1 evaluation
#224256
https://ca.apm.activecommunities.com/vancouver/Activity_Search/221334
Adult Thursday Late Night Hockey
Full hockey equipment is mandatory. All levels welcome. Sign-up starts at 9:30 pm at the rink.
Thu, 11:00 pm-12:30 am, Apr 4-May 2
$10/drop-in (strip tickets not valid)
 
Adult Sunday Evening Hockey
Full hockey equipment is mandatory. Intermediate level. Sign-up and pay the program supervisor starting at 7:45 pm at the rink.
Sun, 9:45-11:15 pm, Apr 7-May 5
$15/drop-in or $50/month (strip tickets not valid)
 
Adult Stick and Puck
Full hockey equipment is recommended and helmets are mandatory. All levels welcome. No scrimmage. Space limited to 26 players, first come, first serve.
$6.40/drop-in or $51.25/10 tickets

Wednesday, 3:15am-4:45 pm, Apr 3-May 1
Pay at the pool cashier starting at 2:30 pm.

Friday, Noon-1:30 pm, Apr 5-May 3
Pay at the pool cashier starting at 11:30 am.


 
Britannia Co-ed Hockey League - 2019 Program cancelled due to rink maintenance closure.
This program is for novice to intermediate players in a non-contact recreational hockey league. Full equipment mandatory with a minimum half-shield on the helmet. All players will be assessed and placed onto teams by the league coordinators.
Games are played on Saturdays at 4:30, 6:00, 7:30, or 9:00.
 
VACHL - Vancouver Adult Co-Ed Hockey League 
This recreational league focuses on fun and safety and is perfect for beginner and lower intermediate players. Game times will be scheduled at the following arenas:  Britannia, Kerrisdale, Hillcrest, Sunset, Trout Lake and Killarney. Price for registration online includes a jersey. More information can be found at vachl.ca. or email .
Registration for VACHL will begin in May 2019.
 
VMHA - Vancouver Minor Hockey Association
Call 604.255.0612
 
Youth BASH Hockey, call Susy @ 604.718.5836