Call for Emerging Indigenous Artists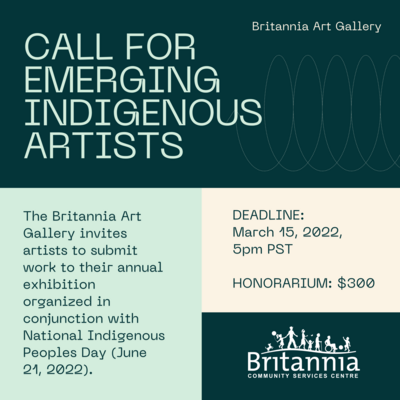 Deadline: March 15, 2022
Honorarium: $300
In June of each year, the Britannia Art Gallery hosts an exhibition in conjunction with National Indigenous Peoples Day (June 21) that features work by Indigenous artists. This year, the gallery invites emerging Indigenous artists who are just starting out in their careers to submit work in the following mediums to be featured in the exhibition:
2D work
Moving images (film/animation)
Small-scale 3D work to exhibit within the gallery's display case.
Who can apply?
This call is open to all emerging Indigenous artists. You do not need to live or work within Britannia's East Vancouver catchment to apply.
How to apply?
Visit
our website
to read the full call for submissions details.
Questions?
Email us at brtnngallery@gmail.com or leave a message at 604.718.5800.
Login
Showcasing the work of local artists in the Adult Lounge of the Library. Everyone welcome!