Britannia would like to assist those who are not able to afford the advertised cost of certain recreation programs; at the same time, our operation needs to be financially viable. Click here for our Subsidy Policy.
Britannia Events Calendar
Wild Salmon Caravan - Art Workshops
Sep 26, 2017 12:00 pm - Sep 26, 2017 5:00 pm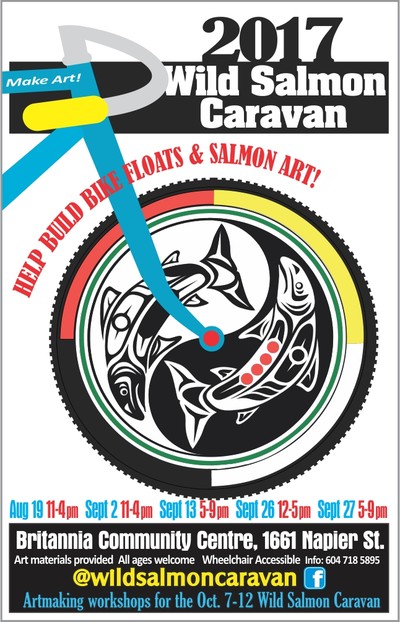 The Grandview Woodland Food Connection and Britannia Community Centre are pleased to participate in this year's Wild Salmon Caravan with a kick off Vancouver Parade on Oct 7th. As our contribution to this parade, we will be organizing a series of arts builds at Britannia (See our poster below) focusing on creating bike salmon art and bike floats and encouraging the bike community to participate in the parade and help promote a carbon free future, recognizing that climate change is a serious threat to the survival of wild salmon.
So, we hope to see you at our arts Builds and at the Vancouver Wild Salmon Parade. For more information, check out the Wild Salmon Caravan facebook page:
https://www.facebook.com/wildsalmoncaravan/

Events
Dec 2, 2018 6:00 pm - Dec 2, 2018 9:00 pm

The Britannia Great Movies Series happens every Sunday evening from 6-9pm in the 55+ Centre. All our welcome to come and enjoy a movie and free popcorn!

Dec 3, 2018 - Dec 6, 2018

Dec 7, 2018 8:00 pm - Dec 7, 2018 10:00 pm

Climb the WIBIT! Contests, prizes, games and crazy staff!

Dec 8, 2018 12:00 pm - Dec 8, 2018 4:00 pm

Celebrate the season by making your own seasonal decor and art projects.
Various local artists will be instructing in a variety of media.
All materials provided. All ages welcome!

Dec 9, 2018 6:00 pm - Dec 9, 2018 9:00 pm

The Britannia Great Movies Series happens every Sunday evening from 6-9pm in the 55+ Centre. All our welcome to come and enjoy a movie and free popcorn!

Dec 11, 2018 4:30 pm - Dec 11, 2018 6:30 pm

Location:

Learning Resource Centre