Britannia would like to assist those who are not able to afford the advertised cost of certain recreation programs; at the same time, our operation needs to be financially viable. Click here for our Subsidy Policy.
Britannia Events Calendar
Indigenous Vision
Jun 27, 2017 5:30 pm - Jun 27, 2017 8:00 pm
Location: Carving Pavilion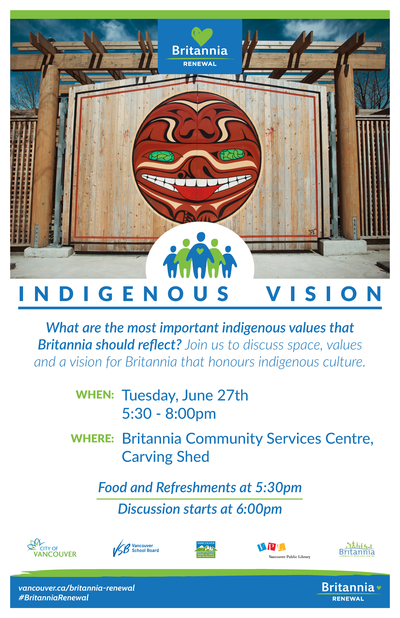 Join us on June 27th for an Indigenous Visioning Workshop to inform the redevelopment of the Britannia Community Centre. This event, lead by Tlicho architect Ouri Scott, will take place at the Britannia Community Centre's Carving Pavilion from 5:30 to 8:00PM. Food and mingling will start at 5:30 and discussion will commence at 6pm. 
 
The workshop will consist of a group discussion on Indigenous values, community and what should be reflect in the new Britannia Community Centre. We will also discuss what kind of spaces, and programs should be in the new centre and what makes a community centre welcoming to Aboriginal people. 
 
This session will be followed in the fall by an Indigenous Design Charrette, where we will help co-design some building concepts with the help of architects and designers.

Events
Dec 2, 2018 6:00 pm - Dec 2, 2018 9:00 pm

The Britannia Great Movies Series happens every Sunday evening from 6-9pm in the 55+ Centre. All our welcome to come and enjoy a movie and free popcorn!

Dec 3, 2018 - Dec 6, 2018

Dec 7, 2018 8:00 pm - Dec 7, 2018 10:00 pm

Climb the WIBIT! Contests, prizes, games and crazy staff!

Dec 8, 2018 12:00 pm - Dec 8, 2018 4:00 pm

Celebrate the season by making your own seasonal decor and art projects.
Various local artists will be instructing in a variety of media.
All materials provided. All ages welcome!

Dec 9, 2018 6:00 pm - Dec 9, 2018 9:00 pm

The Britannia Great Movies Series happens every Sunday evening from 6-9pm in the 55+ Centre. All our welcome to come and enjoy a movie and free popcorn!

Dec 11, 2018 4:30 pm - Dec 11, 2018 6:30 pm

Location:

Learning Resource Centre