Britannia would like to assist those who are not able to afford the advertised cost of certain recreation programs; at the same time, our operation needs to be financially viable. Click here for our Subsidy Policy.
Britannia Events Calendar
2017 East Vancouver Garden Tour
Location: East Vancouver Gardens
Sunday, June 18th, Father's Day, is your opportunity to visit a dozen or so delightful East Vancouver private gardens.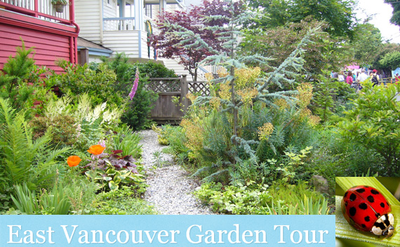 The 2017 self-guided tour will be in an area that's relatively near to Figaro's Garden Centre (1896 Victoria Dr at 3rd Ave). Once you are at a starting place, you will likely be able to walk the entire route.
Tickets are $15 per person. Not just the best, but the most affordable garden tour in town!
We recommend that you register early, as the tour is very popular and tickets are limited. Starting in May, you can purchase tickets in advance at Figaro's garden Centre or through Britannia Centre. You can also get your tickets through Eventbrite. Please visit our Garden Tour website at eastsidegardentour.blogspot.ca for more info.
On the day of the tour, you go to Figaro's Garden Centre any time after 10:00am to pick up your map showing the locations and descriptions of the gardens on the tour.
The tour is jointly sponsored by Britannia Neighbours, Britannia Centre and Figaro's.
Note: Most gardens are not wheelchair or stroller accessible. Children must be 12yrs or older, or babes in arms, and pets are not allowed.
#115014     Registration opens May 1.

Events
Jan 1, 2019 1:00 pm - Jan 1, 2019 3:30 pm

Location:

Britannia Ice Rink

All are welcome to attend our free public skate from 1:00-3:30pm

Skate rentals included.


Jan 2, 2019 6:30 pm - Jan 2, 2019 8:30 pm

Location:

Britannia Art Gallery

January Exhibition runs Jan 2-Feb 1
Featuring:
"The Seasons of Vancouver" a photo essay by John Wang
"The Highrises That Ate Vancouver" oil paintings on board by Deanna Fogstrom

Jan 4, 2019 8:00 pm - Jan 4, 2019 10:00 pm

Climb the WIBIT! Contests, prizes, games and crazy staff!

Jan 6, 2019 6:00 pm - Jan 6, 2019 9:00 pm

The Britannia Great Movies Series happens every Sunday evening from 6-9pm in the 55+ Centre. All our welcome to come and enjoy a movie and free popcorn!

Jan 13, 2019 6:00 pm - Jan 13, 2019 9:00 pm

The Britannia Great Movies Series happens every Sunday evening from 6-9pm in the 55+ Centre. All our welcome to come and enjoy a movie and free popcorn!

Jan 19, 2019 9:00 am - Jan 19, 2019 12:00 pm

Location:

Northwest corner of Parking Lot