Britannia would like to assist those who are not able to afford the advertised cost of certain recreation programs; at the same time, our operation needs to be financially viable. Click here for our Subsidy Policy.
Britannia Events Calendar
B-Lab Open House
Mar 4, 2017 12:00 pm - Mar 4, 2017 4:00 pm
Location: Information Centre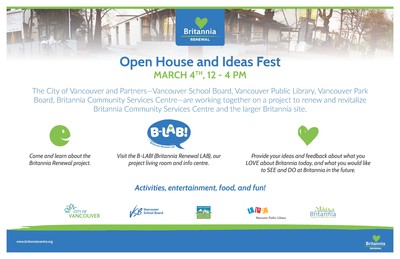 Britannia Community Services Centre Society and Partners – City of Vancouver, Vancouver School Board, Vancouver Public Library, Vancouver Park Board – are working on a project to renew and revitalize Britannia Community Services Centre and the 18 acre Britannia site.

This community-driven project will result in a plan for the future evolution of the site and its facilities for the next 30 years. When completed in March 2018 the Renewal Plan will include:
• A shared vision for a renewed Britannia Community Services Centre
• A space plan for the future facility (the types, location and organization of spaces and places)
• A phasing plan outlining which components and features will be developed when over the Renewal Plan's 30-year planning
horizon

Join us on Saturday March 4th from 12:00pm to 4:00pm for our launch party. We are looking for your input! Tell us what you LOVE about Britannia. Tell us what you ENVISION for Britannia in the future. There will be activities in the Gym, at the Library, Rink, Pool and Fitness Centre and our B-LAB, our new Britannia LAB and community info centre that will be running throughout the project.

Events
Jan 1, 2019 1:00 pm - Jan 1, 2019 3:30 pm

Location:

Britannia Ice Rink

All are welcome to attend our free public skate from 1:00-3:30pm

Skate rentals included.


Jan 2, 2019 6:30 pm - Jan 2, 2019 8:30 pm

Location:

Britannia Art Gallery

January Exhibition runs Jan 2-Feb 1
Featuring:
"The Seasons of Vancouver" a photo essay by John Wang
"The Highrises That Ate Vancouver" oil paintings on board by Deanna Fogstrom

Jan 4, 2019 8:00 pm - Jan 4, 2019 10:00 pm

Climb the WIBIT! Contests, prizes, games and crazy staff!

Jan 6, 2019 6:00 pm - Jan 6, 2019 9:00 pm

The Britannia Great Movies Series happens every Sunday evening from 6-9pm in the 55+ Centre. All our welcome to come and enjoy a movie and free popcorn!

Jan 13, 2019 6:00 pm - Jan 13, 2019 9:00 pm

The Britannia Great Movies Series happens every Sunday evening from 6-9pm in the 55+ Centre. All our welcome to come and enjoy a movie and free popcorn!

Jan 19, 2019 9:00 am - Jan 19, 2019 12:00 pm

Location:

Northwest corner of Parking Lot