Britannia would like to assist those who are not able to afford the advertised cost of certain recreation programs; at the same time, our operation needs to be financially viable. Click here for our Subsidy Policy.
Britannia Events Calendar
Planning & Development Update
Mar 2, 2016 7:00 pm - Mar 2, 2016 9:00 pm
Location: Info Centre - Conference Room
Pool & Fitness Centre Committee Meeting
7:00-9:00pm - Info Centre Conference Room

The Planning and Development Committee will be reporting on the progress towards Britannia's renewal. You are invited to participate and to learn about the potential future of Britannia and provide feedback.
Food & refreshments will be provided.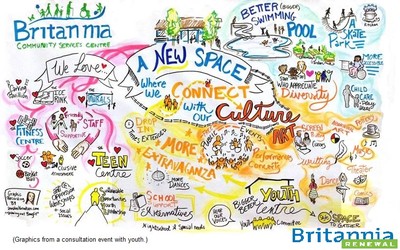 On September 30 2014, after many years of hard work by volunteers, staff and advocates for Britannia, City Council approved $25 million in the 2015-2018 Capital Budget for the renewal of the Britannia Community Services Centre. Up to $100 million dollars has been allotted over the next 10 years for renewal of the full site. This was endorsed by the residents of the city in the Civic election in November 2014.

Events
Dec 2, 2018 6:00 pm - Dec 2, 2018 9:00 pm

The Britannia Great Movies Series happens every Sunday evening from 6-9pm in the 55+ Centre. All our welcome to come and enjoy a movie and free popcorn!

Dec 3, 2018 - Dec 6, 2018

Dec 7, 2018 8:00 pm - Dec 7, 2018 10:00 pm

Climb the WIBIT! Contests, prizes, games and crazy staff!

Dec 8, 2018 12:00 pm - Dec 8, 2018 4:00 pm

Celebrate the season by making your own seasonal decor and art projects.
Various local artists will be instructing in a variety of media.
All materials provided. All ages welcome!

Dec 9, 2018 6:00 pm - Dec 9, 2018 9:00 pm

The Britannia Great Movies Series happens every Sunday evening from 6-9pm in the 55+ Centre. All our welcome to come and enjoy a movie and free popcorn!

Dec 11, 2018 4:30 pm - Dec 11, 2018 6:30 pm

Location:

Learning Resource Centre