Britannia would like to assist those who are not able to afford the advertised cost of certain recreation programs; at the same time, our operation needs to be financially viable. Click here for our Subsidy Policy.
Britannia Events Calendar
Reconciliation in Action
Sep 29, 2015 12:00 pm - Sep 29, 2015 7:00 pm
12:00pm - The day begins with an Elders Luncheon and Dialogue in the 55+ Centre.

2:00pm - Bring your drums and be a part of the Friendship Dance in the Gravel Field.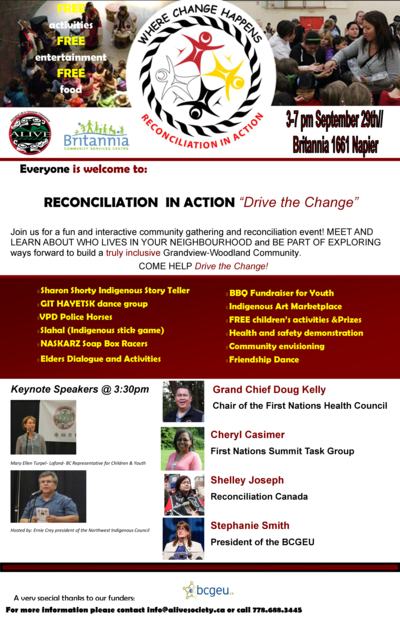 You are invited to join community partners, local schools, residents and other groups for
Reconciliation in Action (RIA):
Drive the Change
at Britannia Community Centre.
Hosted by Aboriginal Life In Vancouver Enhancement (ALIVE) Society and the Britannia Community Services Centre Society, the event will shine a spotlight on the work being done by community partners, provide activities for local children and families, and celebrate the work being accomplished in the East Vancouver community.
On June 2
nd
, Canada's Truth and Reconciliation Commission released 94 recommendations on steps to be taken by all levels of government, First Nations, and communities to reconcile the past and close the gap between Aboriginal and Non-Aboriginal peoples.
RIA:
Drive the Change
seeks to demonstrate how community partners working together can move beyond words to make reconciliation a reality beginning at the neighbourhood-level.
The place-based approach is being adopted in many communities worldwide and has demonstrated remarkable outcomes
.
RIA:
Drive the Change
will invite all interested groups, residents and institutions to sign up to become part of activating an in-the-ground community process, identifying important community issues we can tackle together right now!
The event
will be
participatory
and
interactive
, featuring a range of fun, family-friendly games and activities, food and prizes, a BBQ fundraiser for youth, an Indigenous artists market as well as live music performances, cultural dancers and the VPL Aboriginal storyteller in residence.
ALIVE, Britannia Community Services Centre, the Inner City Safety Society, the Britannia Branch of the Vancouver Public Library, the Vancouver Park Board, RICHER, Ray-Cam Community Association, and OUR PLACE have all signed on as coordinating partners for this event and the longer term initiative. We are expecting many more residents and community groups to participate and also be part of the Gathering on September 29th. We hope you can join us for this important event.

Events
Jan 1, 2019 1:00 pm - Jan 1, 2019 3:30 pm

Location:

Britannia Ice Rink

All are welcome to attend our free public skate from 1:00-3:30pm

Skate rentals included.


Jan 2, 2019 6:30 pm - Jan 2, 2019 8:30 pm

Location:

Britannia Art Gallery

January Exhibition runs Jan 2-Feb 1
Featuring:
"The Seasons of Vancouver" a photo essay by John Wang
"The Highrises That Ate Vancouver" oil paintings on board by Deanna Fogstrom

Jan 4, 2019 8:00 pm - Jan 4, 2019 10:00 pm

Climb the WIBIT! Contests, prizes, games and crazy staff!

Jan 6, 2019 6:00 pm - Jan 6, 2019 9:00 pm

The Britannia Great Movies Series happens every Sunday evening from 6-9pm in the 55+ Centre. All our welcome to come and enjoy a movie and free popcorn!

Jan 13, 2019 6:00 pm - Jan 13, 2019 9:00 pm

The Britannia Great Movies Series happens every Sunday evening from 6-9pm in the 55+ Centre. All our welcome to come and enjoy a movie and free popcorn!

Jan 19, 2019 9:00 am - Jan 19, 2019 12:00 pm

Location:

Northwest corner of Parking Lot