Britannia would like to assist those who are not able to afford the advertised cost of certain recreation programs; at the same time, our operation needs to be financially viable. Click here for our Subsidy Policy.
Britannia Events Calendar
Promoting the Health of Youth
May 15, 2014 3:30 pm - May 15, 2014 6:30 pm
Location: Auditorium
Bringing to the community excellent speakers to support parents, teachers and others in fostering the healthy development of our young people.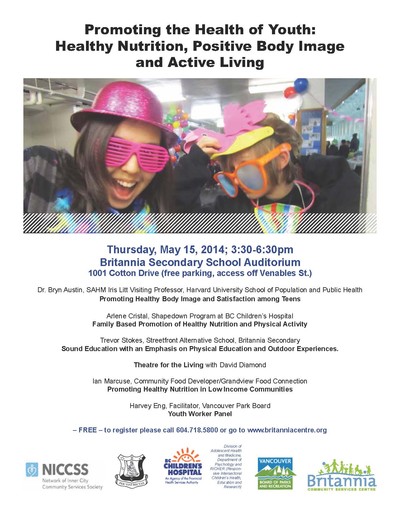 Healthy Nutrition, Positive Body Image, and Active Living

The event's agenda include:
-  A keynote presentation by Dr. Bryn Austin, the Iris Litt Visiting Professor from Harvard, on promoting healthy body image and satisfaction among teens
- Arlene Cristal, Director of the Shapedown Program at BC Children's Hospital - an effective family-based program for the promotion of healthy nutrition and active living
- Ian Marcuse on healthy nutrition for children and teens in low income communities
- Trevor Stokes on promoting physical activity among youth in the Community 
- A panel of Youth Workers sponsored by Vancouver Parks and Recreation
- A special and exciting participatory Theatre presentation with David Diamond's Theatre for the Living
This event is sponsored by: Britannia Community Services Centre Society, BC Children's Hospital's Division of Adolescent Health and Medicine, Department of Psychology and RICHER (Responsive Intersectoral Children's Health, Education and Research), RAYCAM Community Centre, NICCSS (Network of InnerCity Community Services Society), and Vancouver Parks and Recreation. The Society for Adolescent Health and Medicine has provided support for the Iris Litt Visiting Professorship.

Refreshments will be available after the event. 
FREE, please pre-register. online or call 604.718.5800.

Events
Jan 1, 2019 1:00 pm - Jan 1, 2019 3:30 pm

Location:

Britannia Ice Rink

All are welcome to attend our free public skate from 1:00-3:30pm

Skate rentals included.


Jan 2, 2019 6:30 pm - Jan 2, 2019 8:30 pm

Location:

Britannia Art Gallery

January Exhibition runs Jan 2-Feb 1
Featuring:
"The Seasons of Vancouver" a photo essay by John Wang
"The Highrises That Ate Vancouver" oil paintings on board by Deanna Fogstrom

Jan 4, 2019 8:00 pm - Jan 4, 2019 10:00 pm

Climb the WIBIT! Contests, prizes, games and crazy staff!

Jan 6, 2019 6:00 pm - Jan 6, 2019 9:00 pm

The Britannia Great Movies Series happens every Sunday evening from 6-9pm in the 55+ Centre. All our welcome to come and enjoy a movie and free popcorn!

Jan 13, 2019 6:00 pm - Jan 13, 2019 9:00 pm

The Britannia Great Movies Series happens every Sunday evening from 6-9pm in the 55+ Centre. All our welcome to come and enjoy a movie and free popcorn!

Jan 19, 2019 9:00 am - Jan 19, 2019 12:00 pm

Location:

Northwest corner of Parking Lot